How To Quickly Collect (and Make the Most Out Of) Client Data
"Your customer is your business" – I'm certain you've heard that phrase before, and for good reason. I won't bore you with the details of why your customer is your business. You know, and I know, that without customers there's no money coming in, and without money there's no business.
Plus, we love people, and helping others while doing something we're passionate about is what business is all about, right?
What I will talk to you about (and hopefully not bore you with) is how you can take that concept to the next level. I'm talking about saving your client information into a customer list, and then taking full advantage of that customer list.
Your client list is like a Golden Ticket, giving you access to repeat business, better marketing, and a more holistic view of your business.
*Grandpa Joe is dancing over a literal Golden Ticket here, but we're sure he likes customer lists, too.
How To Save Client Information
Let's start with the basics. You could save your client information by getting a book, then writing in each and every customer you see. You could check off repeat customers each time they come in. You could try to sort alphabetically.
You could also chisel this information into a stone tablet.
Obviously, those aren't the most effective ways of going about things. The advent of computing has made data management incredibly simple. At the very least, you should be saving your client information into some kind of spreadsheet.
Create a table with values like name, phone number, email, age, gender, zip/postal code, number of appointments booked, total amount paid, and specific notes about the client. That way, you can easily sort through values.
That's a huge step up from writing everything down in a book, but we can still do better. You can automate data entry, which can save you a lot of time.
We're going to toot our own horn a little bit here – our appointment booking software does exactly that! Every time a client books an appointment online with you, a profile for them gets created in your Bookedin client list. When they book multiple appointments, new data will be added to their existing profile.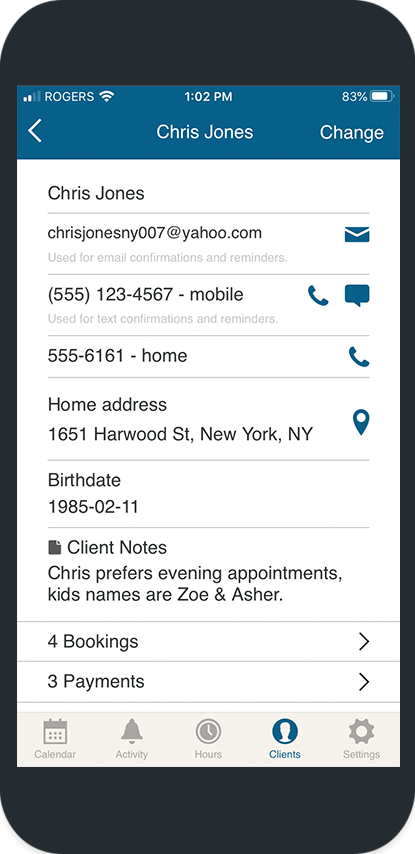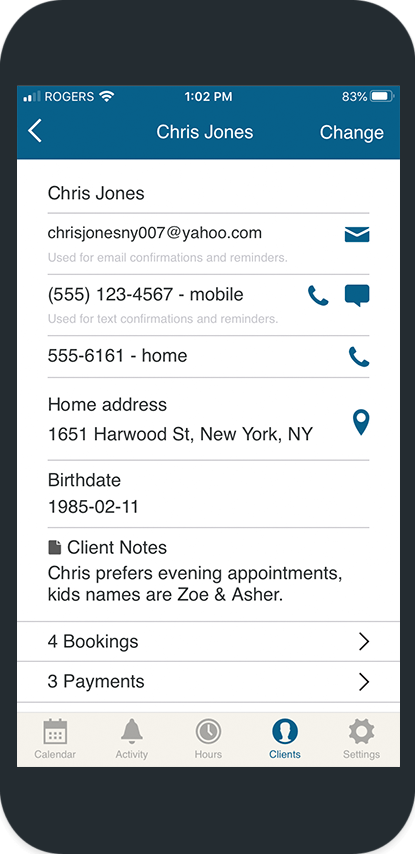 We've included all the hits, from demographic data to a running tally of how much your clients have paid. You can also call, email, or invoice customers directly from the client list. Simple, right?
What To Do With Client Information
The possibilities are endless, and the only real limit is your imagination.
*Well, that and local, state/provincial, and federal privacy laws.
You can use that information to create customer personas based on the clients who bring the most value to your business! You might even create a referral program so you can get data about which customers refer the most people to your business.
Gather data about how your customers found you. One good way of going about this is to use the custom form fields that Bookedin offers. 
The process is super simple. You create a custom form that says "How did you hear about us?", and you click a handy button to make that question pop up only once, when the customer first books an appointment with you. Learning which customers learn about you through which platforms can help you improve your advertising and client acquisition on those platforms.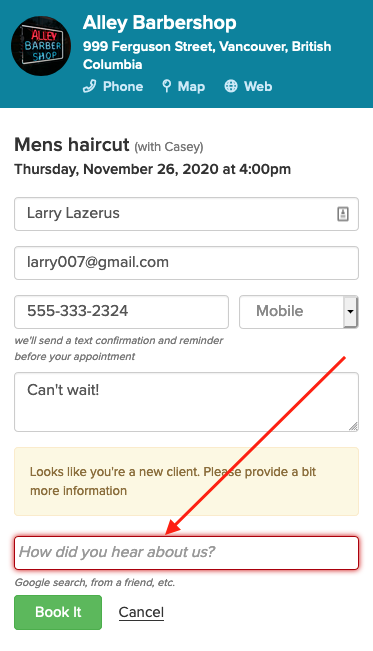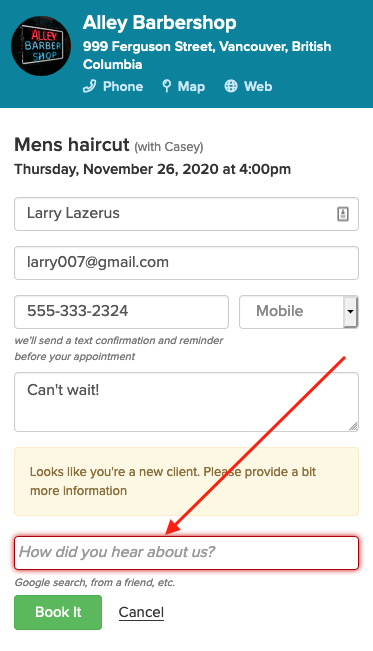 Find out how many customers cancel between the first and second appointments, and figure out what pain points might be. Call your best clients up, and ask them to come to a party hosted by you. Find out whether or not customers with really long last names spend more than those with really short ones. Like I said, your imagination is the limit. Get creative and build those client lists!