Productivity Hacks for Mobile Businesses
Running a business means long hours.
And for Gary Kristensen, owner of A Quality Appraisal, this is certainly true.
Gary spends most of his day driving to view properties around the Portland, Oregon area. When he's home from the office, and the kids are in bed, he's up late writing reports, performing quality checks for his team, and seeing to the details of running his business. Sound familiar?
As one of our new customers, and someone who sounds like a pro at #gtd (getting things done) we wanted to feature Gary and his company on our (*sniff* neglected *sniff*) Talking Shop section of the blog.
Recently Gary took some time to share a list of his productivity tips in a guest post for real estate tech company alamode.com. He's the kind of entrepreneur who is always looking for ways to make his office more efficient and profitable, and isn't afraid to share his secrets to success.
Here's an excerpt, plus a link below to read the full post.
How I Work: Gary Kristensen, A Quality Appraisal, LLC
Treadmill Desk
Have you ever noticed that your mind is clearer or you seem to think better when you're taking a leisurely walk?  Studies have shown that increased blood flow to the brain means better thinking and more productivity.  When I'm in the office, I work from a standing treadmill desk, walking slowly at a speed of 1.2 to 1.4 mph.  If your doctor clears you for a treadmill desk, you might find that you do not need coffee and your general health will benefit.  Typing while walking is not an issue as it becomes second nature after the first day or two of walking at your desk.
While packaged solutions for this do exist, most treadmill desks consist of a typical "standing" desk, and a treadmill.  I built my standing desk from an Ikea butcher block, and bought a Confidence treadmill from Amazon for under $200.  If you're interested in learning more, check out my blog post on treadmill desks.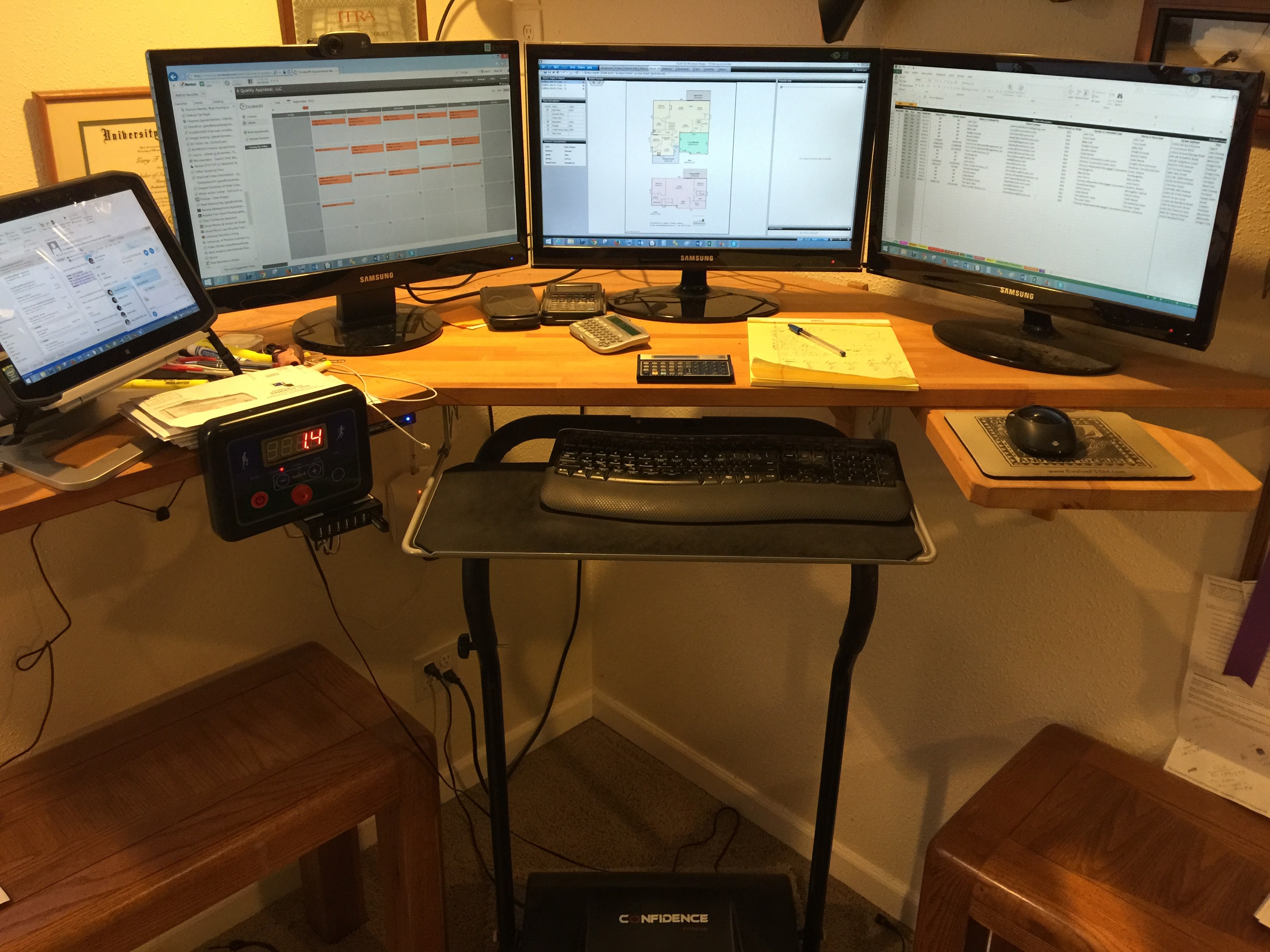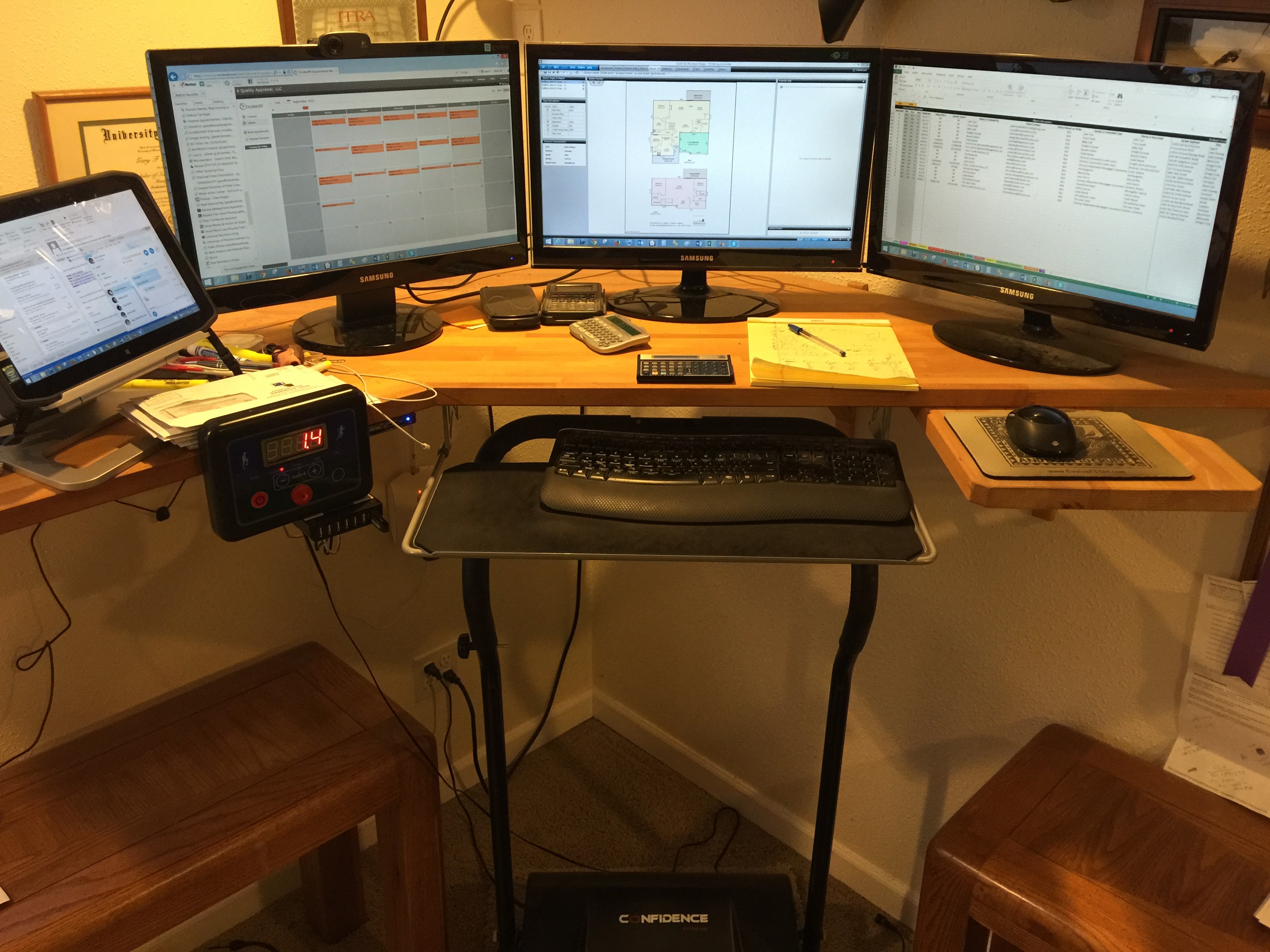 File Sharing
When a field inspection is completed, the files are transmitted back to the office using Skype's file transfer. Photos taken on my iPhone are immediately available in the office using the Dropbox app. Other company documents are stored in Google Drive, available to everyone on the team. My assistant, or another appraiser, continues entering and verifying data while I photograph comparable sales or inspect other properties. If you go mobile and have a support staff, your report can be almost done when you return from the field, almost like magic!
Even if you have a secretary, scheduling appointments can be frustrating and distracting. Do you have to play phone tag? How many times have you forgotten to send an appointment reminder and wasted hours waiting for a no show?
For the past few months, we've been using online scheduling software called BookedIN. When we accept a new order, BookedIN emails our client a link to our schedule and lets them view openings to pick the time slot that works for them, without needing to login or create a password. They're also able to fill out a pre-inspection questionnaire. The software then sends email reminders to the client about their upcoming appointment.
BookedIN can also be used to block out vacation days, times or days for specific areas, drive time, office days, and family time. This has taken away my stress, eliminated the need for a secretary, and given our clients a more professional impression of our business. My clients now take care of the scheduling and I just look ahead to see what I have coming. My only complaint is that BookedIN is still developing a mobile app (kind of late in this age), but the website does work on my phone.
(We were tempted to leave that last bit out, but honesty is the best policy. Plus, we're counting down the days to our big iOS and Android app launch. Stay tuned for the big announcement in the coming months!)
Share your story
If you have a small business, scheduling, or productivity tip that works for you, please let us know in the comments! Also,  if you're feeling brave and want to get featured on Talking Shop, please contact leanne@bookedin.net.