New Two-Way Calendar Sync
Now you can sync your BookedIN calendar with your personal calendars in both directions! This means no more managing multiple calendars, zero sync delays, and no worries about getting double booked.
This is perfect for people with VERY busy calendars that are constantly shifting. You can sync all of your personal calendars and then relax knowing your online booking page will only let clients book based on your actual availability.
How does it work?
Events created in your personal calendar will immediately block your BookedIN calendar
BookedIN appointment scheduler sync to your personal calendar in real-time
You can cancel or reschedule BookedIN appointments from inside your personal calendar. (BookedIN will send the usual client email notification.)
Desktop view: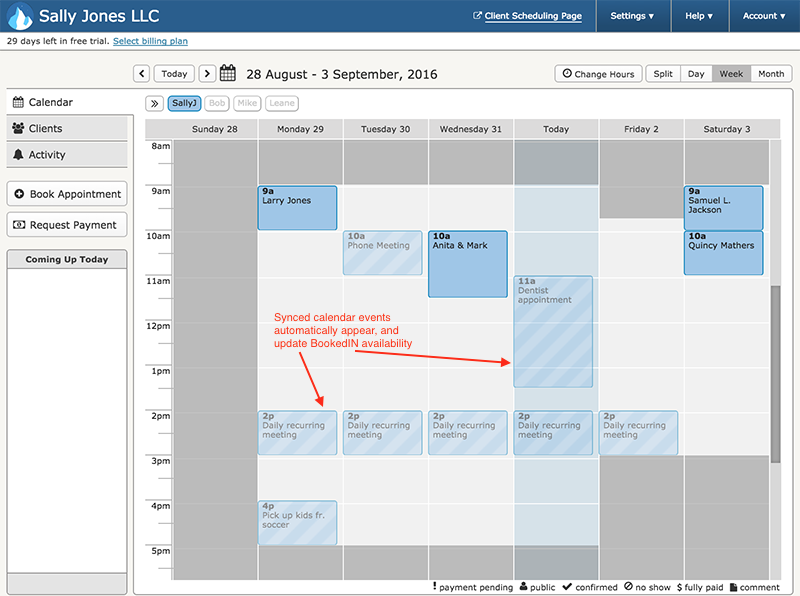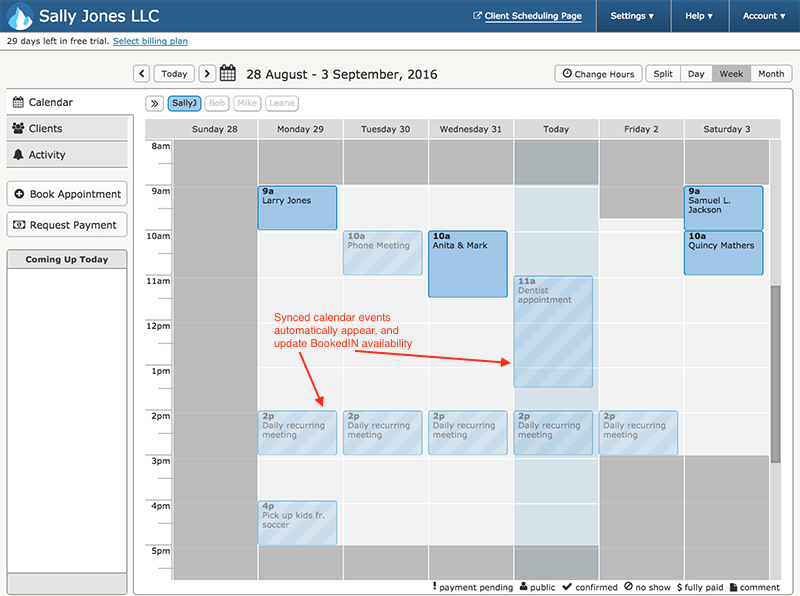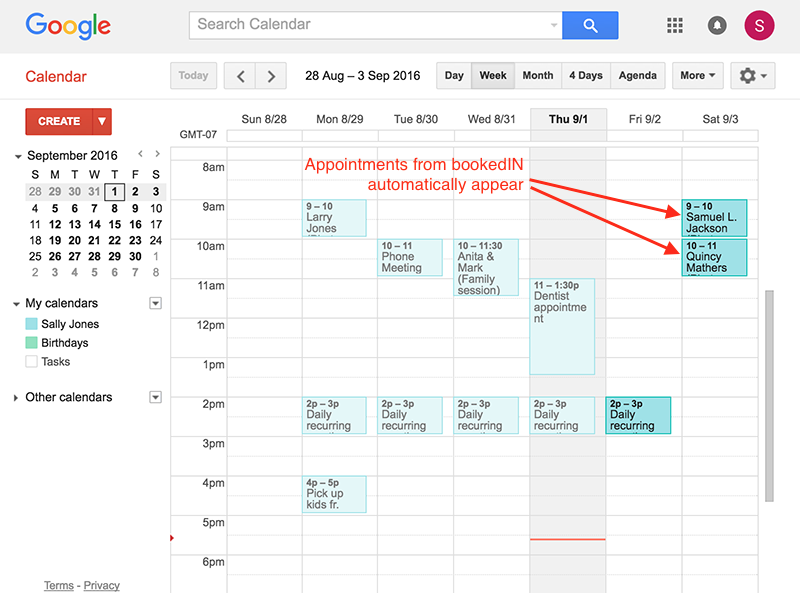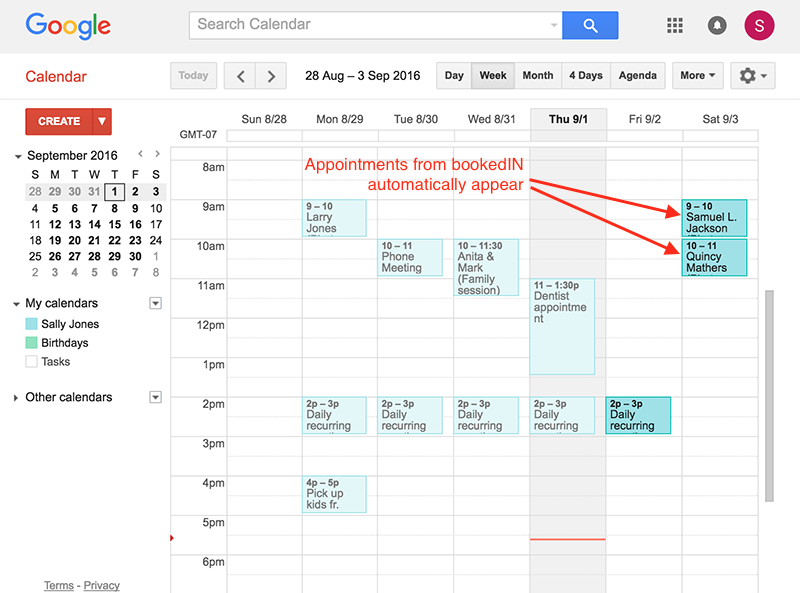 Android & iPhone app view: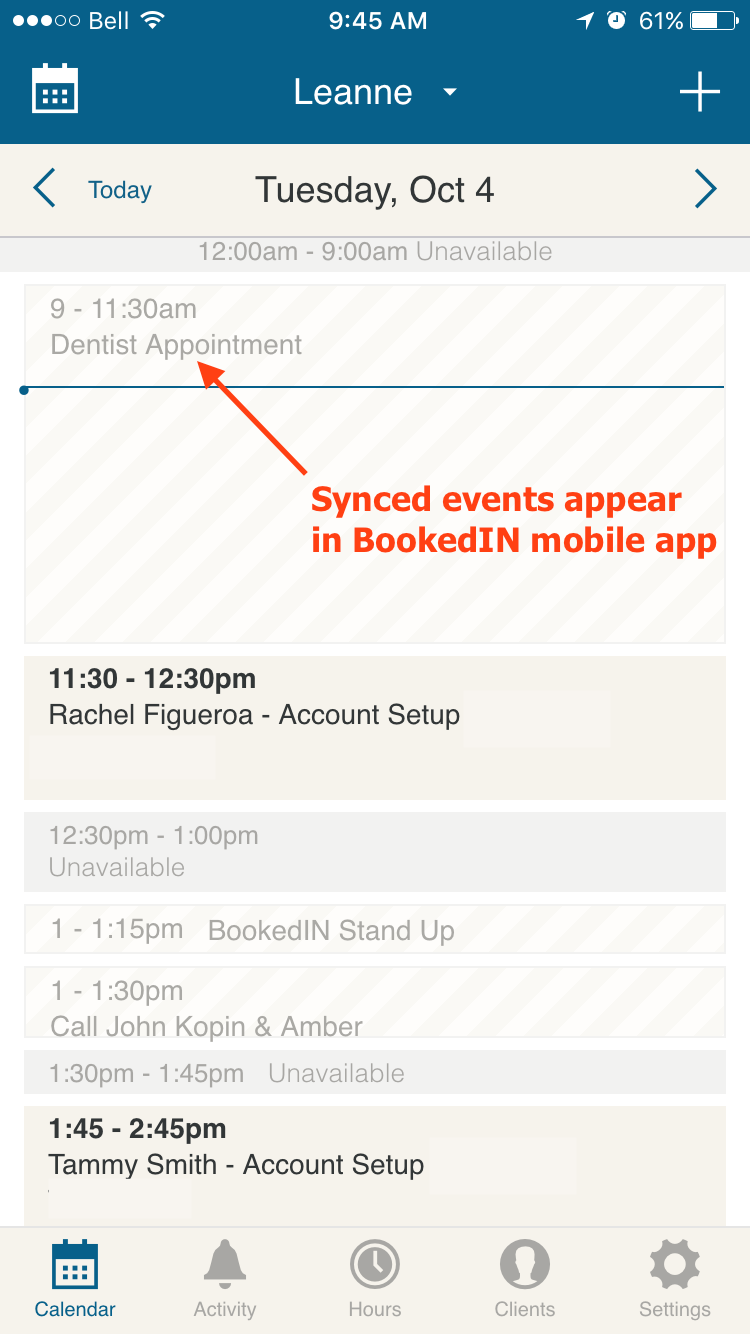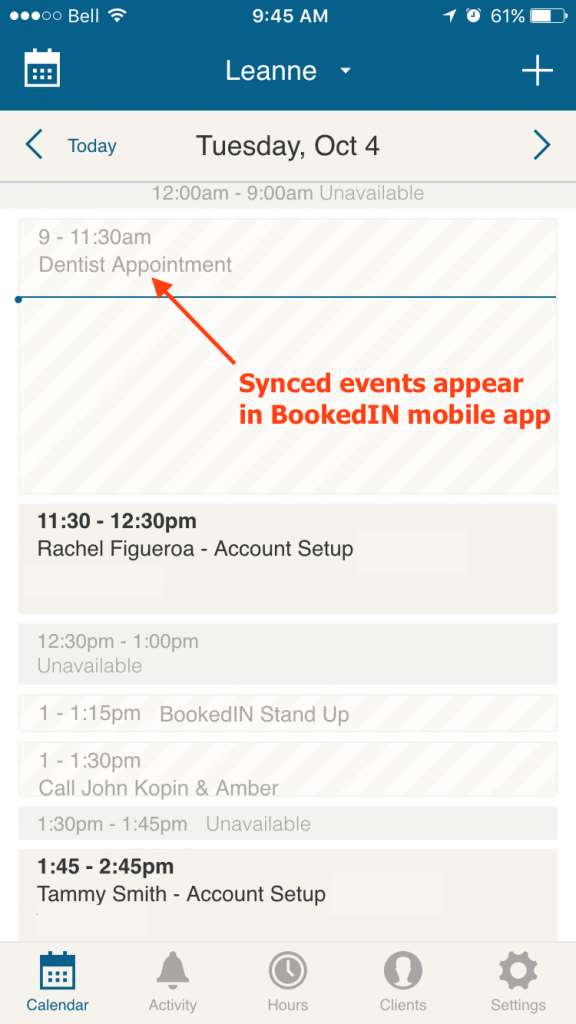 The nuts & bolts
Sync 2-way or 1-way
Works with Google, iCloud, Outlook, Office365 and Microsoft Exchange
Set up unlimited syncs
Included in 30-day trial
After trial, included with all monthly & annual plans
Free upgrade for everyone until Oct 16, 2016!
Reviews so far: People are loving it!
"I am delighted with BookedIN. The syncing is just so easy. I have been able to add my personal diary events from my iCal at home and they show up on my diary in the office. This is so convenient. It means I can add things on the move to my iPad and I don't need to remember to write it in again later. I am very happy indeed with my switch to BookedIN. I think this has saved me around 6 hours a week, and for someone who works just 3 days a week, this is significant."
– Caroline Graham-Brown, Hypnotherapist
"Thank you for the timely implementation of this solution.  So far I'm finding it very helpful. When I started using Bookedin I was unable to review the product because it was missing a key feature that was an enormous impact for me. Now that the calendar sync is in I am not only happy to write the review, I'm ELATED!"
– Jeff Cohen, Business Consultant
"Oooommmmggggg it's the best thing since sliced bread. I freaking love it y'all"
– Will Smith, Hair Stylist
"Was very easy to set up, thanks!"
–  Lindsey Van Roy, Photographer
"I love the sync calendar! Makes it so much easier for me."
– Karen Fleissner, Tennis Instructor
"Loving it! Thanks."
– Laura Rawlings, Spiritual Life Coach & Consultant
"It's already making a huge difference. I had several double booked days last week and now I am seeing both my personal cal in bookedin and my booked in on Mac calendar. Really this was an important update for me given that I juggle something like 12 schedules in my organization. It's just a wonderful layer of clarity."
– Fr. Peter Mussett, Catholic Priest
Try BookedIN calendar sync for free
So what are you waiting for? Sync your calendars with BookedIN, and let your clients book  appointments online based on your real-time availability. It will drastically reduce your stress levels, and you can use the time saved each day on more important things in life. Like taking a well deserved break with family and friends. 😀
Sign in to BookedIN then go to Settings > Calendar sync in the top menu. Set up takes just a few seconds, and if you get stuck along the way, just follow these step-by-step instructions.
Happy Syncing!