Video Conferencing is now live!
Gone are the days of sending separate emails to your clients for your video conferencing needs. Now you can automatically link Zoom, Skype or any video calling service directly in your Bookedin appointment invitations/services!!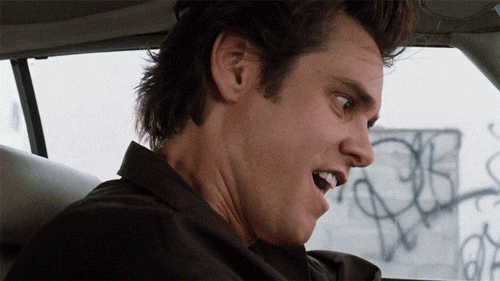 Yes Jim, it's very alive!
Over the last year and a half, video conferencing has become a normal part of work life with businesses having to adapt to the changes in their industries. Now, you can link your video conferencing link directly in your meeting invitation and save your clients the hassle of having to check their emails for separate video invitations, and it's as easy as clicking a button. Every conversation is better when you can see the other person but just make sure your meetings don't go longer if you get caught up talking about your client's cool hat!
How can this benefit me?
Now there's no need to send your clients a separate email causing them to look through their inbox to find what they need. Our automatic email/text confirmations will provide your clients the only prompt they need so they can hit the link and be all set to go. All you need to do is create your video conference on your chosen platform and attach the invitation and we'll take care of the rest! The only thing left to do is shine up those glasses, brush those teeth, and perk up that smile because it will be "lights, camera, action!" for your next appointment.
How to Use the new Video Conferencing Feature
We wanted to ensure that you have full control over each and every appointment you set, so we graciously provided you two ways to implement your video calling feature into your appointments. You can either add it to individual appointments OR automatically add it to your services to save time. After all, that's what we're all about.
Both ways are equally simple and effective, so here's a breakdown of how to get them up and running.
Automatically Add Video Conferencing to your Services
You can now add video calling to your services so that anyone who books that service will have the video calling option available to them, making it easy and convenient.
Here are the steps to execute this:First you must set up an account using one of the popular apps. Ex: Zoom, Skype, Google Meet etc. Then copy your meeting invitation.
Here is an example for Zoom.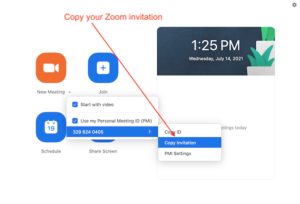 1: Log into Bookedin web or the mobile app (iPhone / Android)
2: Go to Settings > Services then click to edit an individual service. 
3: Under Video Conferencing, paste the video conferencing link you just copied from Zoom/Skype etc.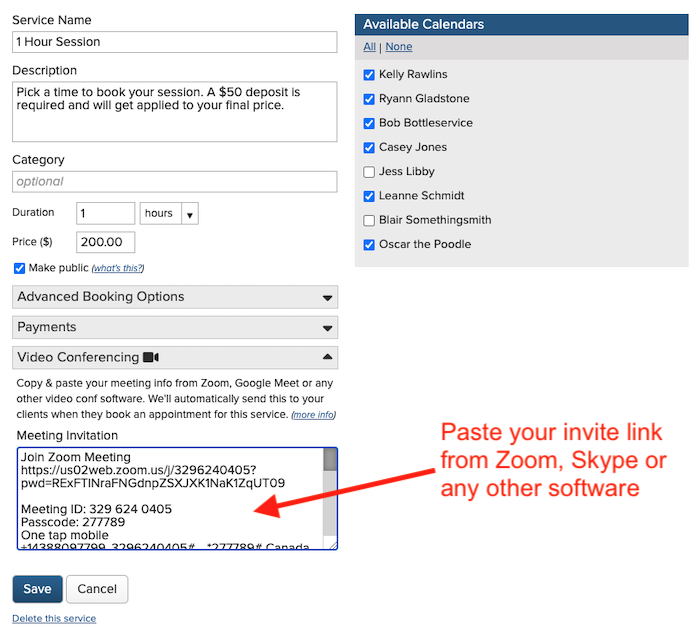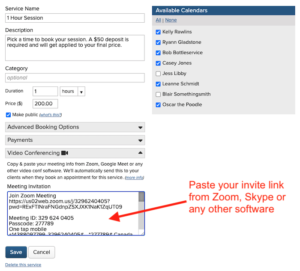 4: Hit save and BAM! Now all clients that book that service can easily join a video conferencing link for their appointment. 
Optional: repeat the above steps for any other services
Adding Video Calling to Individual Appointments
If you're looking to add a video calling feature to individual appointments, say no more, we have that option for you as well. This is handy if you need to switch an appointment from in-person to online, or if you are booking in a specific client who prefers to meet with you virtually.
1: Log in to your Bookedin appointment scheduler (web, iPhone, Android).
2: Go book an appointment as you normally would for any client, by selecting the date and time slot you desire.
3: Now, when you go to fill out the information, you will see a new link called "Add Video Conferencing".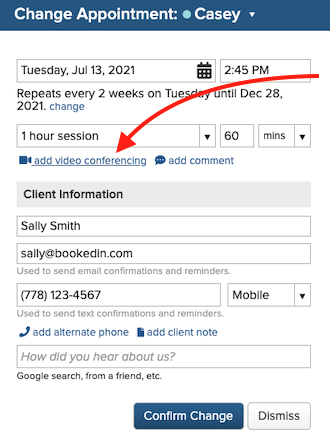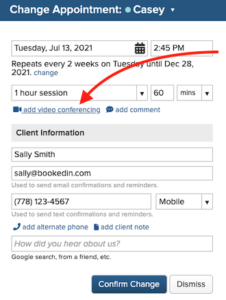 4: Upon clicking the link, you will see a blank field appear. Copy & paste your video conferencing link into that field and voila! Your client will receive the meeting invitation with a video conference link attached. Easy, right?
What your clients see
A video icon will appear on your services and clients can easily book & join the call via the reminders. (BTW, your clients will think you're pretty much a computer coder now, so we are not responsible if they ask you to develop high quality excel spreadsheets or code javascript)
Online Booking Page: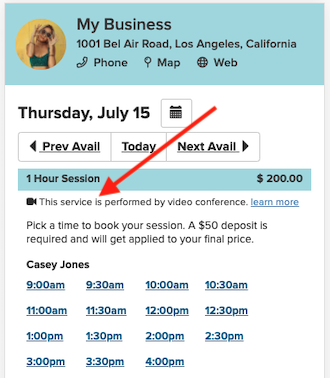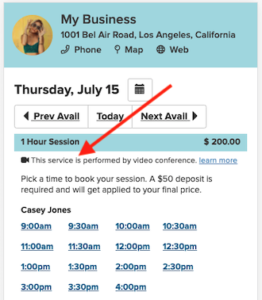 Thank you Page: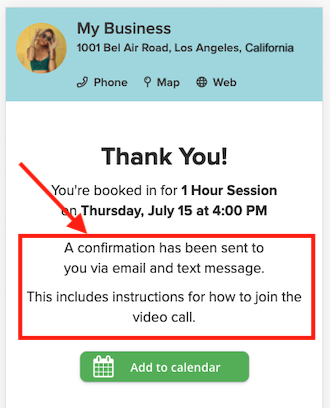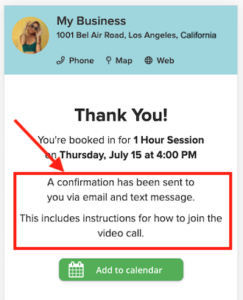 Confirmation & Text Reminders:


Email Reminders: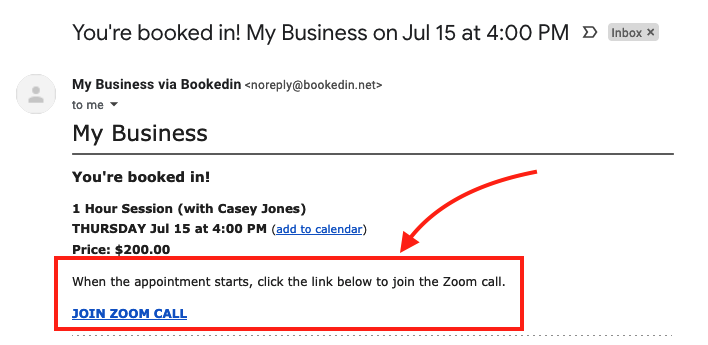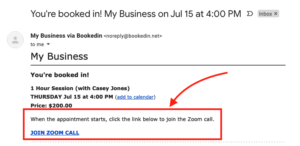 And thats it!
By setting up video conferencing with your services you'll be able to connect with clients virtually in the most natural way possible and enjoy the connection of a face-to-face conversation.