How To Simplify Appointment Booking
You may have heard the Henry Thoreau quote "Simplify, simplify". While most of us aren't spending our time in log cabins on the lake trying to "go back to nature", we can all use a little simplification now and then. 
Some people have an appointment booking strategy that looks something like this: 
Don't be like Charlie. He's obviously very stressed. There are better ways of booking appointments.
We can do better. We can go entirely digital. We ditch pen and paper, save trees, reduce plastic waste, and create more efficient scheduling. Let's get started! 
Go digital
Whether you're sticking Post-it notes all over the wall with lines of string running between them, or you're taking all of your appointments down in a book, you can improve your booking strategy by going digital.
The simplest way of going about this is to put all of your appointments into a Google Calendar. While there are a number of online calendars available, Google Calendar is the one I recommend for anyone who is using Gmail, Android, or other Google-based services.
The advantages of Google Calendar
One of the main advantages of using Google Calendar is that it can automatically schedule appointments that you've made via Gmail into your calendar. This feature works best for appointments you've booked with other people, so while it doesn't handle your booking for you, it does help you make sure you don't book someone when you're supposed to be off running errands.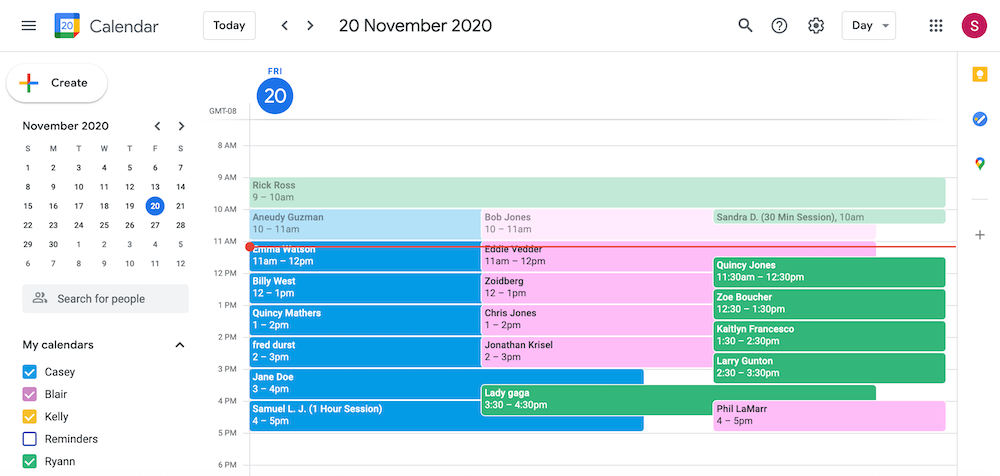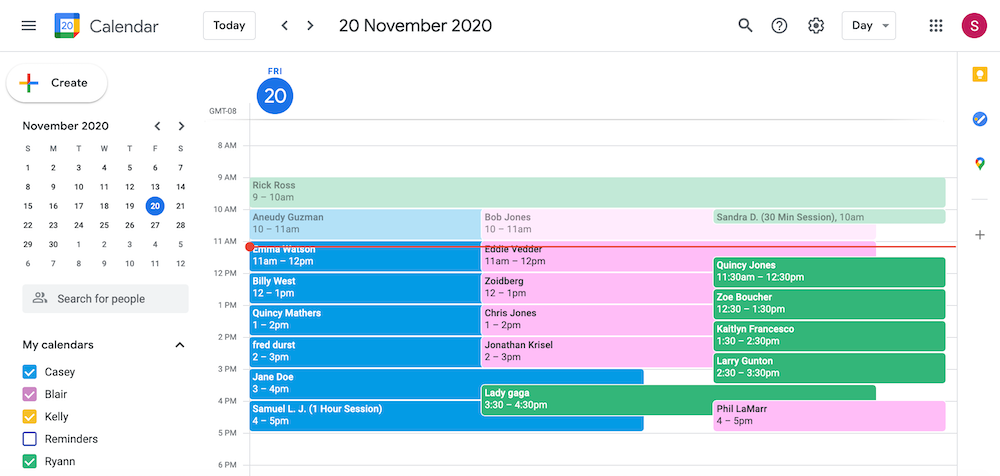 A second advantage of Calendar is that you can manage multiple calendars together. This is really useful for businesses who have more than one person clients can book with – salons, tattoo parlors, clinics, and many other businesses have multiple practitioners in the same space. It's nice for everyone to know who is booked up when, so your business doesn't end up looking like this:
"But Paul", I hear you say, "Are there any other advantages to Google Calendar for appointment booking?" Why yes, my hypothetical over-eager friend, there are! You can use Google's world clock mode to handle people in different time zones, great if you're dealing with appointments hundreds of miles away via video conferencing!
If you think I've shilled for Google Calendar enough – you're wrong. A small business with staff members who are all taking appointments can find it hard to coordinate meeting times. With Google Calendar, you can use the "find a time" feature, plug in all of the participants, and Google will find times that work for everyone. No more "Does 5 o'clock Thursday work for you?" "No, does 7 o'clock Friday work for you?" "No".
That's everyone's least favorite game.
Here's the TL;DR:
Google keeps your appointments all in one place

You can share your calendar with others in your business

Your calendar automatically updates with information from Gmail

It makes scheduling appointments easier

It can handle different time zones
It also sends you reminders directly to your phone and/or your computer. Oh, and it's totally free. That's a good deal.
Get appointment booking software
If you thought the shilling for *Google* was bad, you're in for a treat.
I kid, I kid.
Here's the thing. Google Calendar is a wonderful start if you've been doing all of your appointment scheduling by pen and paper. It does, however, leave a lot to be desired when it comes to actually booking appointments. And reminding clients about their appointments. And confirming appointments. (Like I said, a lot to be desired).
The disadvantages of Google Calendar
You still have to answer the phone (and I'm sure you like playing phone tag about as much as I do). You still have to check your Instagram DMs, and your email inbox, and your Facebook messages, and your website's chat support log, and your answering machine, and your LinkedIn messages, and…
That's exhausting to read, and even more exhausting to experience. Online appointment scheduling software handles all of that for you. Any appointment booking platform worth its salt will automatically sync with your Google Calendar (and other scheduling programs), so clients will automatically know when you're available.
Save time and money
The best feature of appointment software is that you can use one link for all of your appointment booking. No more looking through DMs from every single social media platform you use. You can just stick the link to your booking page in your profile with a big "BOOK HERE" call-to-action.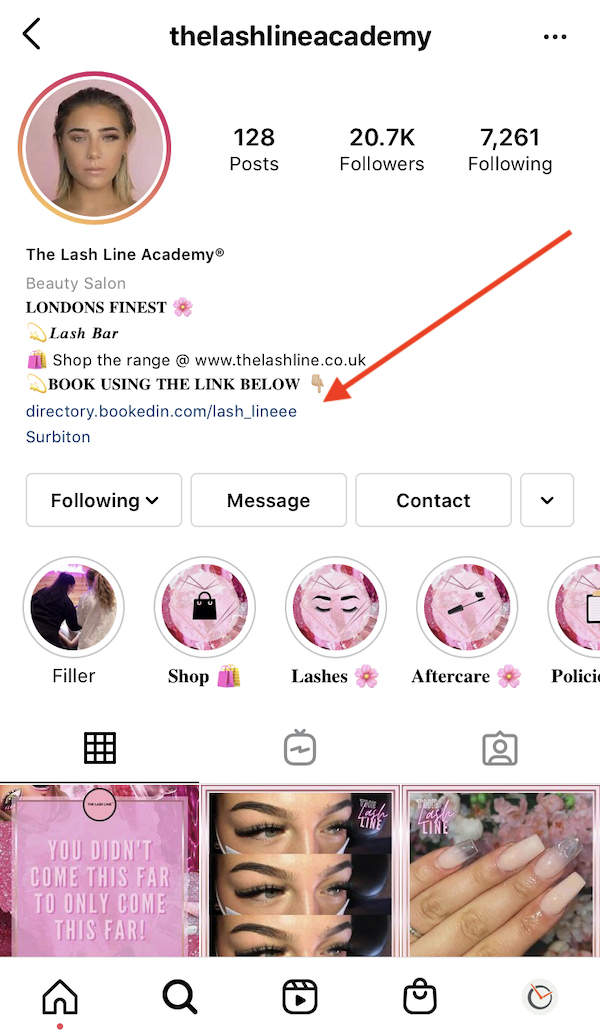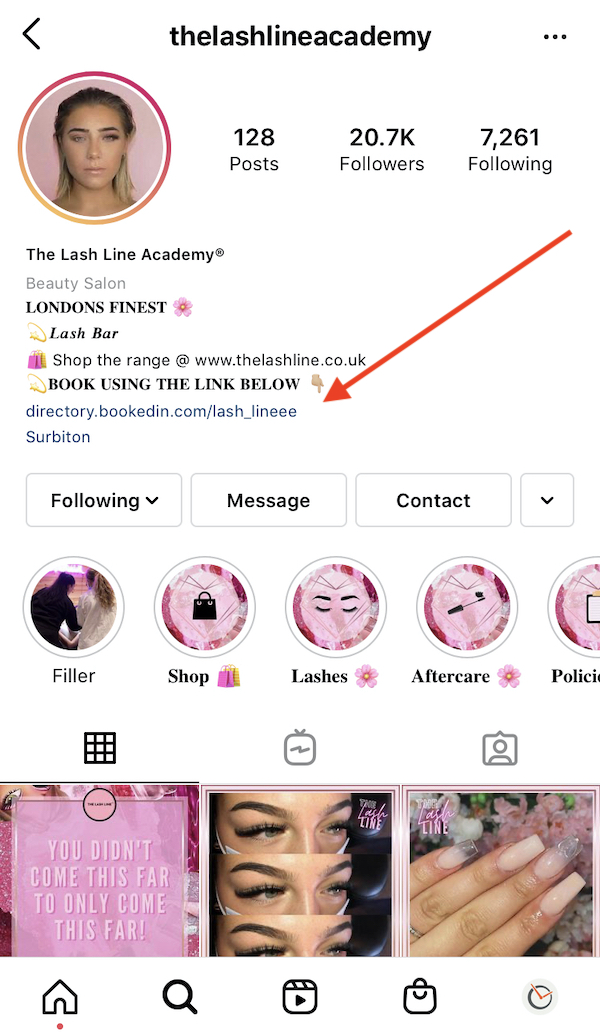 You want your clients to be able to book at 3 AM on New Year's Eve. You don't want your clients to call you at 3 AM on New Year's Eve. Booking software manages all of that for you. Clients can book whenever they want, and it won't interrupt the special dinner you just cooked. Online booking reduces stress!
Okay, so your clients can book appointments anytime, and your booking software will automatically schedule appointments into your calendar. Obviously that's reaaaaaally handy. You can also find software that texts your clients appointment reminders (depending on which booking system you get). That cuts way down on no-call no-show cancellations, which are the bane of any business:
Another TL;DR
Online scheduling software makes booking and scheduling easy

Text reminders drastically reduce cancelled appointments and no-shows

Your calendars are automatically synced with the software (which prevents double-booking)

Clients can book appointments any time of day or night

You can easily link to your booking page from all of your social media (and your website)

You can get your clients to pay when they book, so no-shows don't mean no money
Now I know new tech can seem like a bit of pain to get installed, but trust me – any hiccups you might experience are far outweighed by the efficiencies you'll find.
Remember Charlie at the top? You don't need to lose your mind like him. Go digital with your appointment booking. It's definitely worth it. Click here to start for free.