The 4 Best Methods for Attracting New Clients to Your Salon
Arguably the biggest challenge in the beauty industry is finding new clients. It's a constant effort to keep your calendar full and the business flowing.
While you likely already have some loyal clients who regularly book with you, (because you make them look oh so ahh-may-zing) you may have noticed over time your client list slowly dwindles. People move away, disappear, or their styles change and they suddenly stop booking your services. Even the most loyal client in the world can all of a sudden ghost on you. 👻😢
This seems to be the natural cycle of being in the industry. According to Lockhart Meyer, a top marketing firm in the UK, most hair and beauty businesses lose 10-25% of their clients each year. In other words, around half of your clients will disappear over the course of three years. Yikes!

So to be successful in the hair and beauty industry, you need to be constantly bringing in a steady stream of new clients.
So the eternal quest of how to get more beauty clients continues. To help you with this battle, we did some digging. And wow, we found THOUSANDS of tips and tricks for getting new clients. Google it and you'll find endless articles with 101 articles about how to get salon clients and how to get new clients booking appointments with you. These lists can be overwhelming, especially if you're not sure where to start.
Since we know you're busy, we did the hard work for you. We looked at the most successful hair & beauty businesses here at Bookedin, all the hair and beauty marketing tips online, then boiled it all down into just four of the very best methods to get new clients walking through your door.
The 4 best methods for attracting new clients to your salon
Clean up your online profiles
Invest in your image
Leverage your friends and existing clients
Experiment with some clever promotions
Let's dive in, shall we?
1. Clean Up Your Online Profiles
First thing's first, a bit of housekeeping. Your business needs to show up online! Before we start working on building your client base, let's make sure your online info is accurate and you're appearing in all the right places.
We want your name to appear in the same places where your clients are already searching for services like yours. If someone types "Microblading in Vancouver" into Google maps, we want your business to pop up.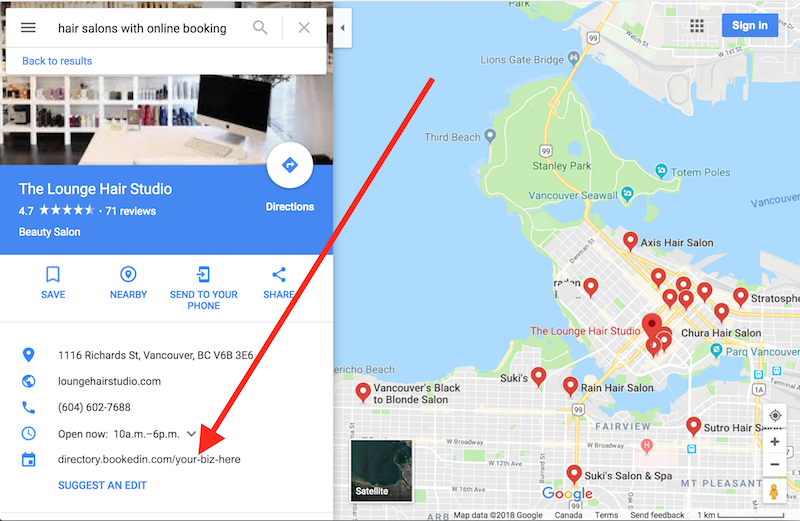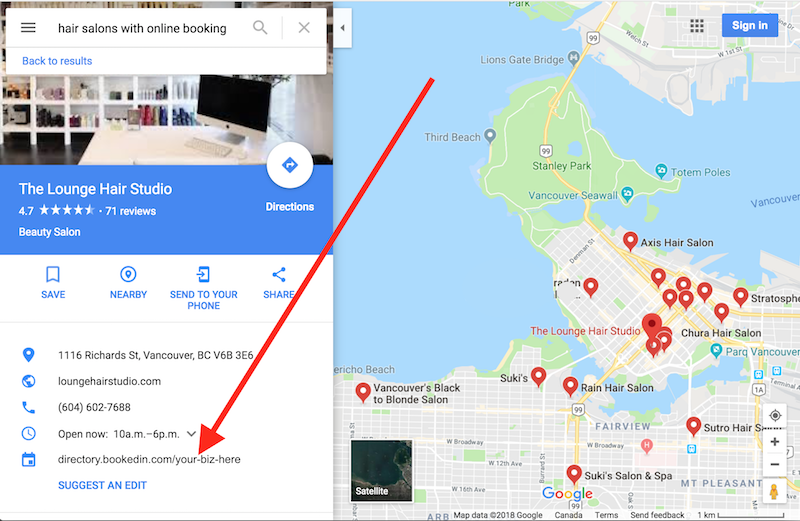 Follow these steps to tidy up your online profiles & contact info:
Google yourself:
Type "your salon name + your city" into Google. Or if you're an independent stylist, search "your name + city".
Right-click and open every single listing in a new browser tab. (This is easier to do on a laptop) You'll probably see Yelp, Facebook, Yellow Pages, etc.
Now review every single profile and make sure your phone #, address, hours, website, and appointment booking link are accurate on all pages. You wouldn't want a new client thinking you're closed when you're actually open, or phoning your old location.
Bonus step: while you're at it, add 5-10 of your very best photos to each profile.
Get yourself on "Google My Business":
Open the Google Maps app on your mobile phone, then search for "your salon/name".
If your salon shows up, review your maps listing and make sure your hours, phone #, and booking link are correct just like you did above. The booking link is the most important thing here. This lets clients book appointments directly inside of Google Maps. Beauty Salons with a booking link can appear more prominently in Google so this could help set you apart from your competition. If you need to update your maps info or booking link, learn how here.
If nothing shows up when you search Google Maps, not to worry! You can add your business for free here: https://business.google.com.
Note: if you don't own the business, you won't have access to update most profiles, so if you find any inaccurate info, simply send this blog post to the salon manager or marketing person.
Clean up your social media profile:
We believe Instagram is currently the holy grail of beauty service marketing. By putting all your time and energy into Instagram, you'll be more effective and be seen where prospective clients are already spending their time searching for beauty services.
If you're currently running social media on other sites like Twitter, Facebook, or anywhere else, you're probably spreading yourself too thin. Instead of trying to create content for multiple social profiles, try spending ALL of your time & energy on Instagram, and simply cross post to the other profiles using the little "share" buttons in Instagram, or an app like Buffer, or Hootsuite.
To let your clients know you're moving over to Instagram, try posting an announcement image like this to your current Facebook page.
"Hey Facebook fans, we're posting all our best stuff on Instagram now! Please follow us there for specials, announcements and daily updates: instagram.com/misspopnails"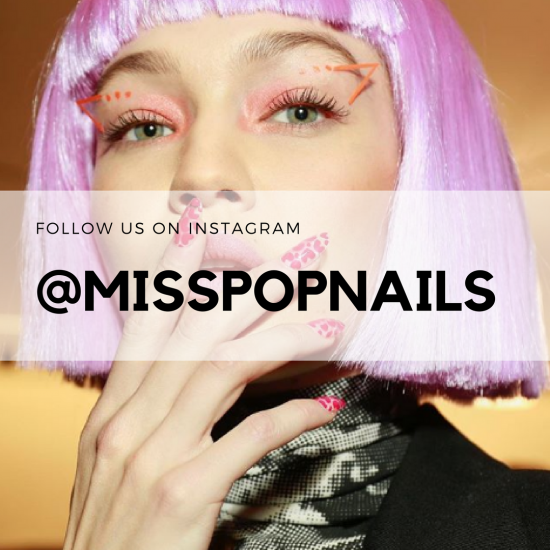 Should I delete my other social stuff?
No. If you already have a Facebook page or Twitter, definitely leave them live. Your clients might still send you messages on there, and it's still good to appear in Facebook search. So don't delete the FB and Twitter apps from your phone just yet…
However in terms of how to get new clients in a salon, you'll want to spend all of your time on just one platform. And we recommend Instagram. If you ask around, experts agree that Facebook pages are dead. The new Facebook algorithm has made brand page posts nearly invisible to fans. Facebook is now prioritizing posts from family and friends over public content from Pages.
2. Invest in Your Image
Now that your profile cleanup is done, let's start attracting you some new clients! You're wondering how to get beauty clients… and the answer can be really simple. Invest in beauty.
The key here is to stop worrying the gimmicky marketing tricks, and get back to basics. Focus on your image. Image is everything and should be the foundation of your marketing efforts. The gorgeous hair styles, the perfectly primped nails, expert fades, and those brows-on-fleek. It's the work you do that is going to sell your services. And great photos of that work.
How you present yourself to the world is the cornerstone of marketing in the beauty industry. Prospective clients, (and especially the ones who'll be most loyal) are looking at YOU to be their beauty icon. Browsing your feed and checking you out well before they're even thinking about booking an appointment.
If clients can relate to you and identify with the imagery in your Instagram feed, this can be a powerful sales tool.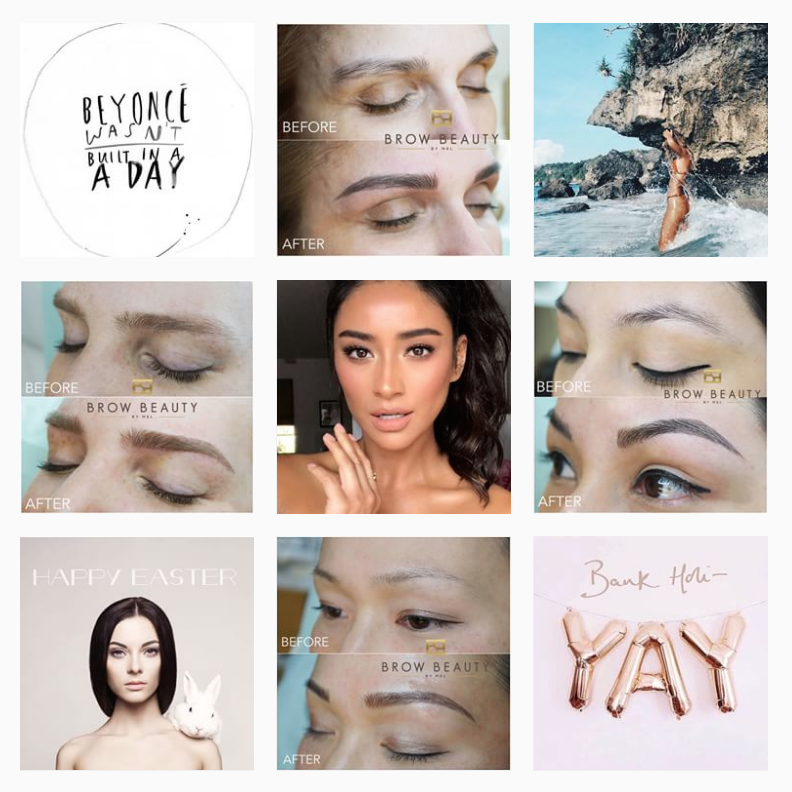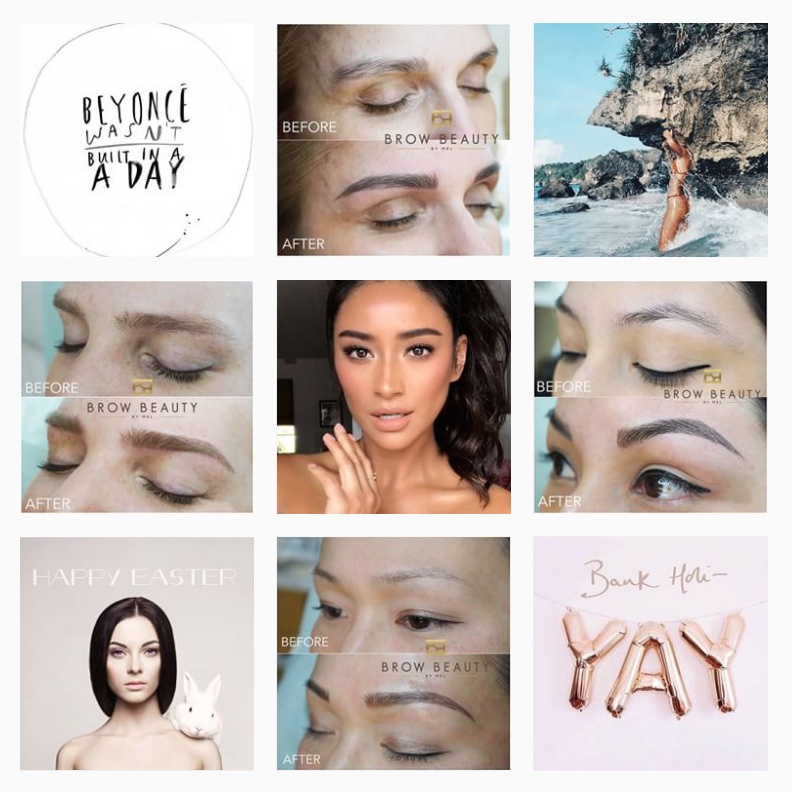 Source @browbeautybymel on Instagram
Whether you're a stylist working at a salon, or the owner of the business, think of your Instagram feed like a tiny online store for your services. Window shopping for the babes of the universe! So showcase your best work, share the photos that inspire you, and add some fun posts that celebrate your personality. For example, check out this warm, friendly little video clip by @braidsconnexion.
Here are our top tips to help you level-up your image:
Improve the lighting conditions at your salon:
This is where all the magic happens, so improving the lighting will make your photos, and your client's selfies look that much better. This is often overlooked by stylists but can be a key way for how to get your salon noticed. Go with warmer temperature light bulbs, eliminate shadows, and try to add lighting on either side of the mirrors. Read more salon lighting tips here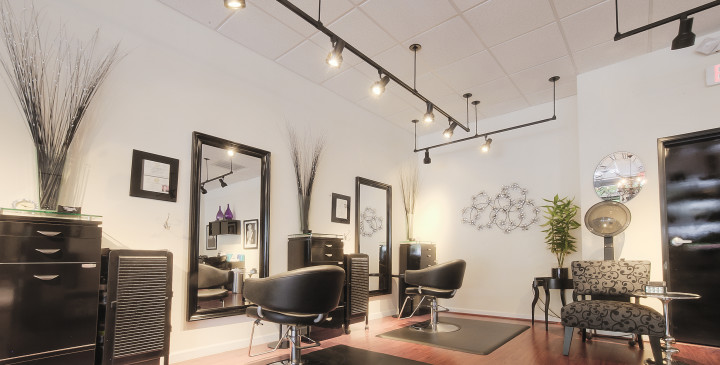 photo credit: ledsource.com
Take better selfies:
Even the most professional beauty experts out there post selfies from time to time. The #fotd (face of the day) trend is definitely one to get on in the beauty industry. To look your best when taking selfies, remember to keep your chin down and the camera up. Try to avoid the "duck-face" pout, experiment more with mirror selfies, try a LED light for your phone, and be mindful of those photo-bombers. Read more selfie photo tips here

Improve your photo brightness & colors:
Before posting on Instagram, always do some quick photo editing. Great lighting conditions will always help, but that brightness setting bar can be your bff.  Try Snapseed (iPhone / Android) a free photo editing app or just use the in-app Instagram editing tools.
If you're on iPhone and have an Apple store in your city, try attending one of their free classes where you can get help with your phone and photo editing. But be careful not to over-edit though, you might get called out on it.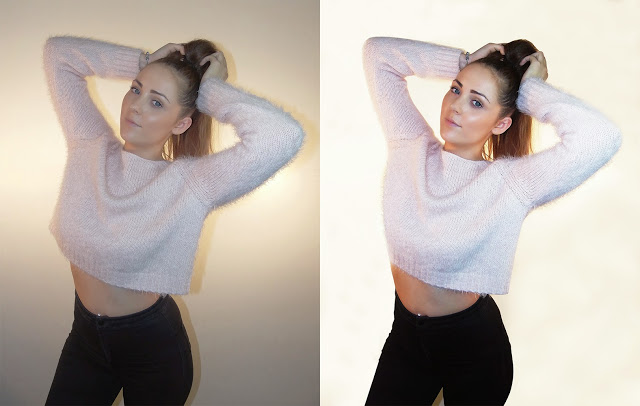 photo credit: Rosie Maslin
Don't neglect your own beauty routine:
Your entire persona is a sales tool, so looking fantastic at all times is important foundation for how to increase salon clientele. Your "look" is what new clients first gravitate to, both in-person and on your Instagram feed. Invest in some new outfits to wear to work, and never ever, ever, ever skip your own beauty routine. Ever! The awesome part about this is you get to pamper yourself a little which will help reduce your stress. Cheers to relaxing with Netflix and a sheet mask tonight!
Continually hone your skills:
Make time in your schedule to experiment, study, and improve your skills and services. Attend training courses, meetups, trade shows, and other industry events to stay on top of the trends.
Level up your Instagram feed:
What kinds of images inspire your creativity? Not everything you post on Instagram needs to be an original pic taken by you. Try Canva's gigantic library of free Instagram templates or use Plann, a powerful Instagram scheduling tool designed for beautiful brands. They offer free stock photos, videos and training too.
You can also share "found" photos. Pics you've saved to your camera roll, screenshots from websites, or simply screenshot & re-post other Instagrammers. Adding a variety of images is a great way to express your style and fill up your feed. Soft beachy scenes, graffiti street-art, runway models, flowery bouquets, whatever inspires your style. Just be sure to add a photo credit in the caption.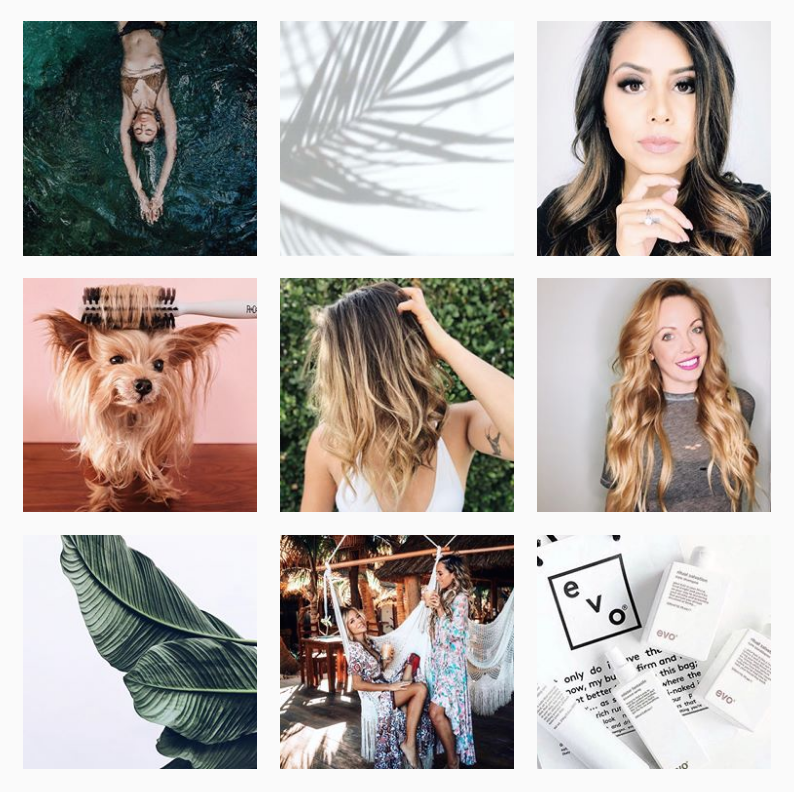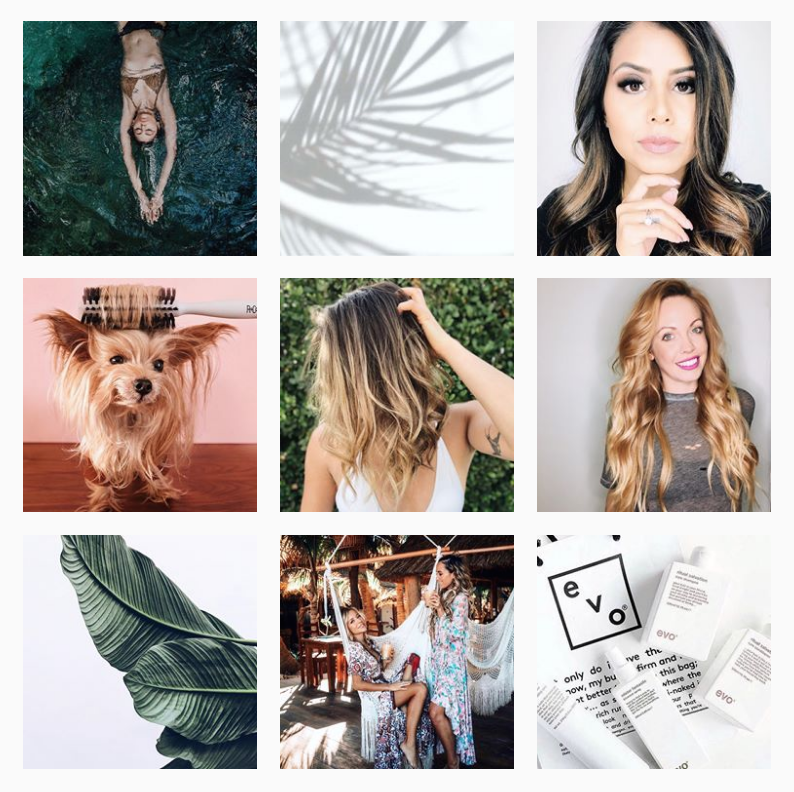 source: @prephair on Instagram
Related Post: How to Get More Clients From Instagram  → 
3. Leverage Your Friends & Existing Clients
Now that your profile cleanup is done, and your image on Instagram is bursting with creativity, it's time to lean on your network. A very powerful method behind how to get more clients in a salon is to leverage your existing ones. If you provide amazing services and have a few clients to show for it, you can grow your client list through the people you already know. Here are the best ways to encourage your existing clients to do your marketing for you:
Craft up a selfie wall:
Now this might sound tricky, but it will pay off. We promise! A selfie-wall is kind of like a photo booth that encourages your clients to have some fun taking selfies while visiting your salon. The photos they take help spread the word about your services.
You could go with something simple like hanging a new mirror, next to some great lighting conditions, then write your Instagram @ name or salon's hashtag on the mirror using a whiteboard pen. Hang it in the salon waiting area, or if you're cramped for space, transform your bathroom into a selfie station.
We love this gorgeous green grassy selfie wall from @PrepHair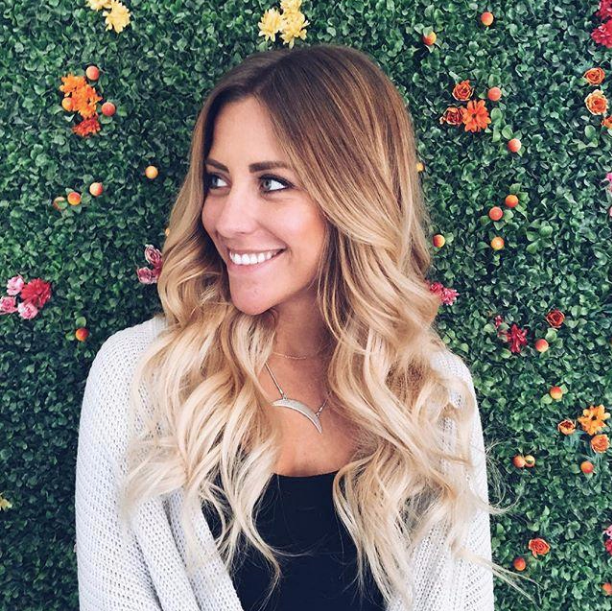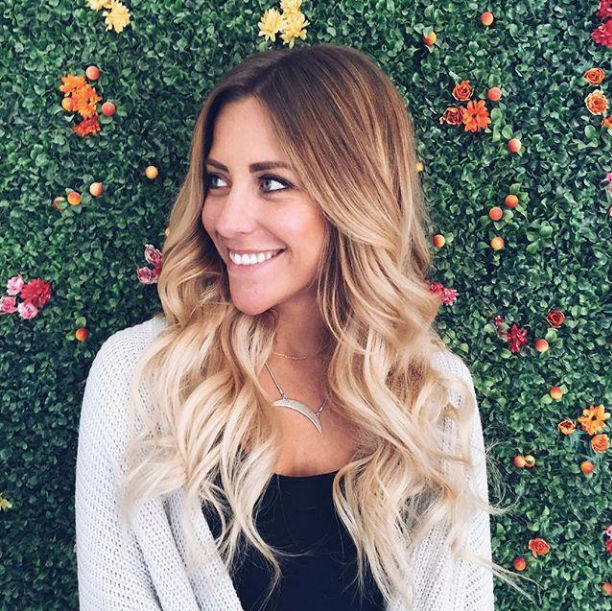 Share client before & after photos:
Take photos of your clients before and after their service, then ask for permission to post on your Instagram. Try collecting a bunch of client photos each week, then use an Instagram scheduling app like Plann, Buffer, or Hootsuite to draft and batch schedule posts for the week. That way you can get a large chunk of your posting done in one sitting.
Make sure to caption a flattering comment about your client, and tag them too.

Get help from friends & family:
It's easier to turn someone you already know into a client, vs trying to win over a total stranger. Leverage your friends and family as much as possible to grow your client list!
Ask everyone you know to follow you on Instagram. Ask them to always like/repost/share your photos to their Instagram and stories. And don't forget to hit that little "share to FB" button in Instagram. This will share to your personal Facebook profile (not your brand page).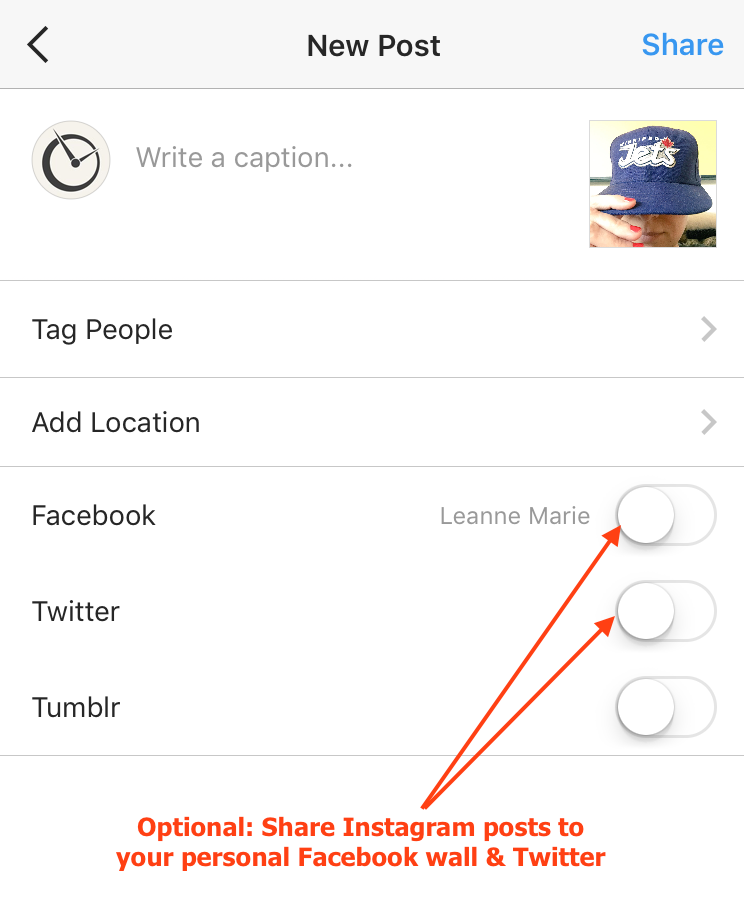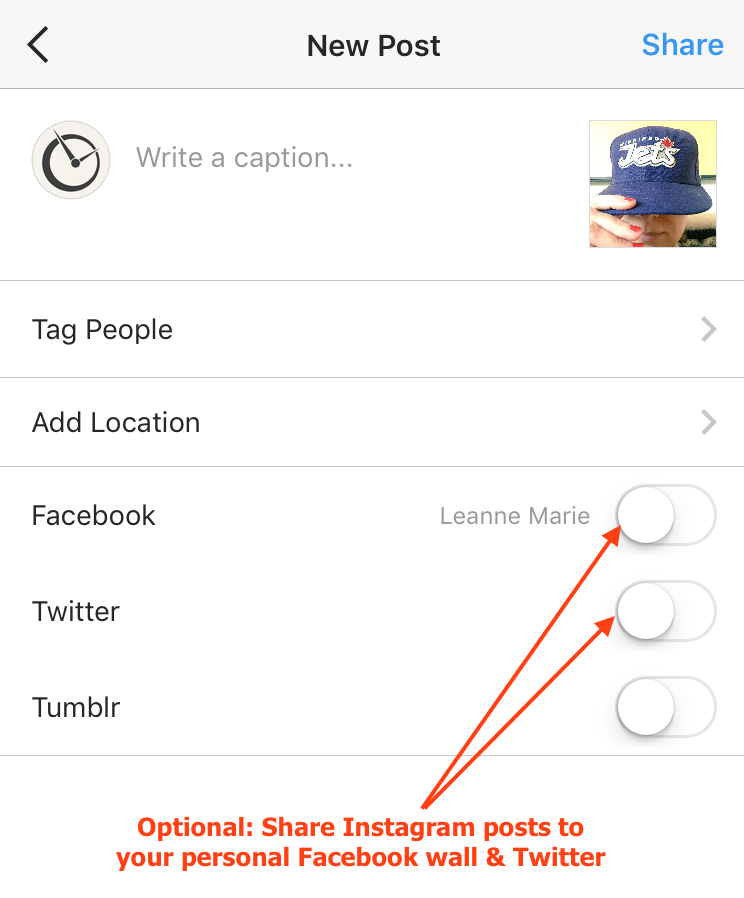 4. Experiment with Some Clever Promotions
Now that your profiles are cleaned up, your online image is attracting you lots of attention, and your client list is starting to grow, here are some bonus ideas to try. These are just a few of the top client generating ideas that have worked in the beauty industry since the dawn of time. Thankfully the challenge of how to get more clients in a salon has been an eternal one, so we already understand what works and what doesn't.
Simple daily specials:
If you have a slow season or day of the week, try to entice some new customers with some simple specials. Try to add value instead of discounting. For example, post an image on Instagram advertising a daily special: a free deep conditioning treatment with every haircut.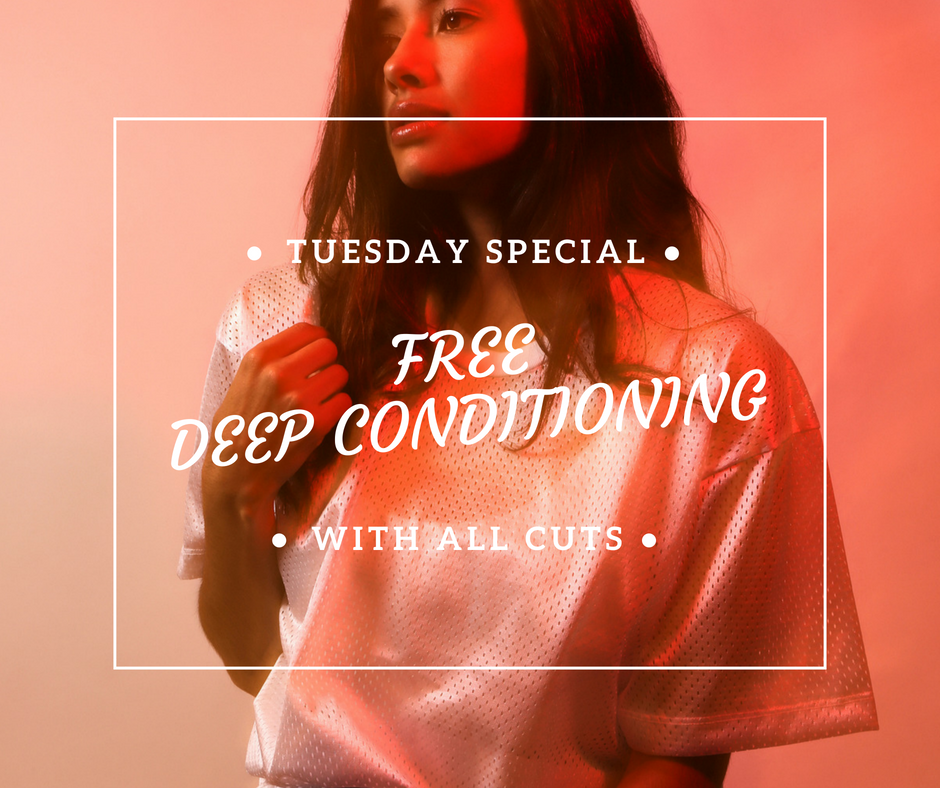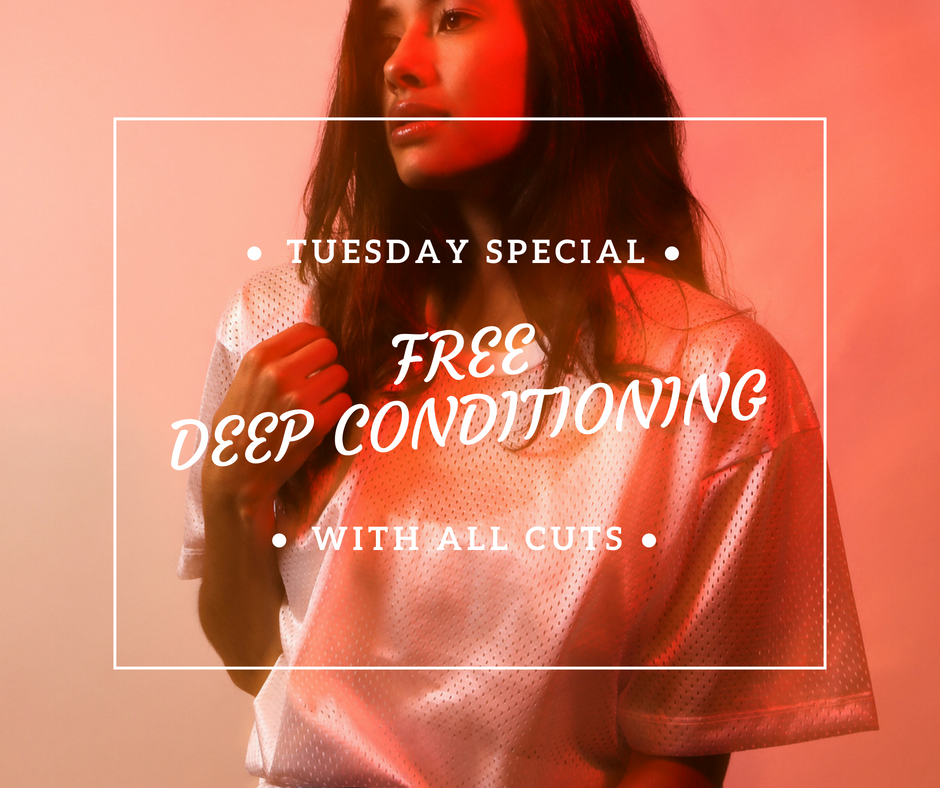 Download this free template
Cross-promote related businesses:
Get friendly with other local or neighboring businesses. Post a photo of the amazing espresso shop next door and use the location/geo-tag on Instagram to make sure you'll show up when coffee-shop goers explore that location.
Same goes for other beauty services that relate to your brand. For example, if you perform lash services, don't be afraid to promote your favorite nail salon. They'll be likely to post about your business as well. Share the love as the saying goes.
Refer-a-friend program:
Friends trust their friends for advice, especially with fashion and beauty. In the beauty industry, referrals are the most powerful ways to attract new clients and will work for you much better than any coupon or flyer.
To get your refer-a-friend program going, all you need to do is ask. At the end of every appointment, just say, "Refer 3, get one free". It rhymes so it's easy to remember! Oh and of course, post about it on Instagram around once a month.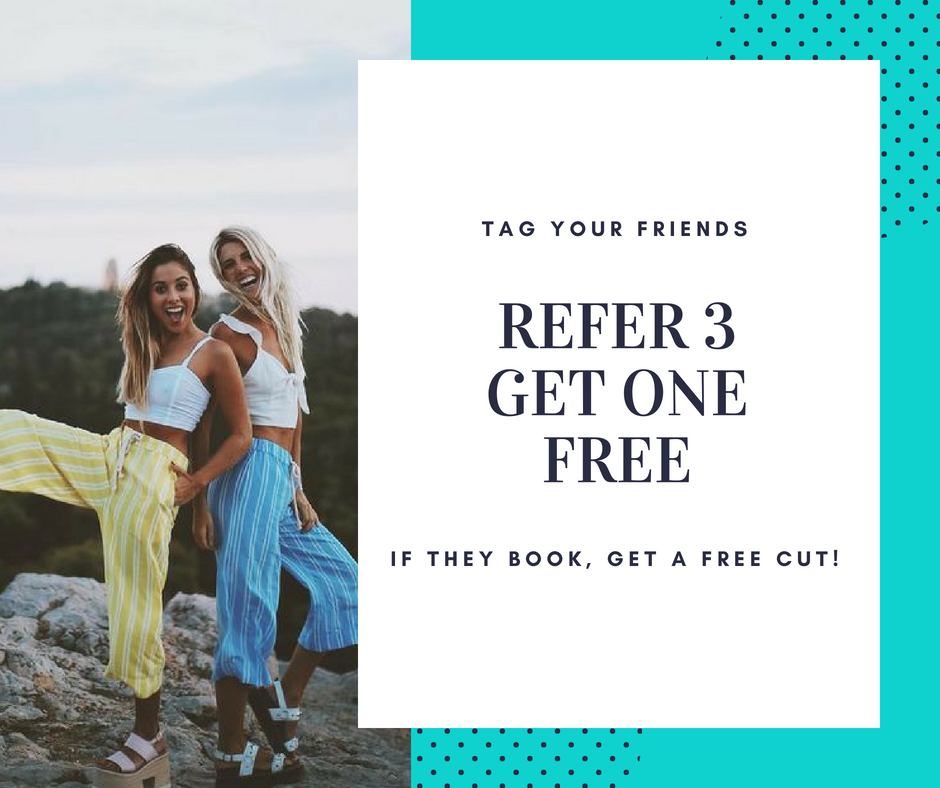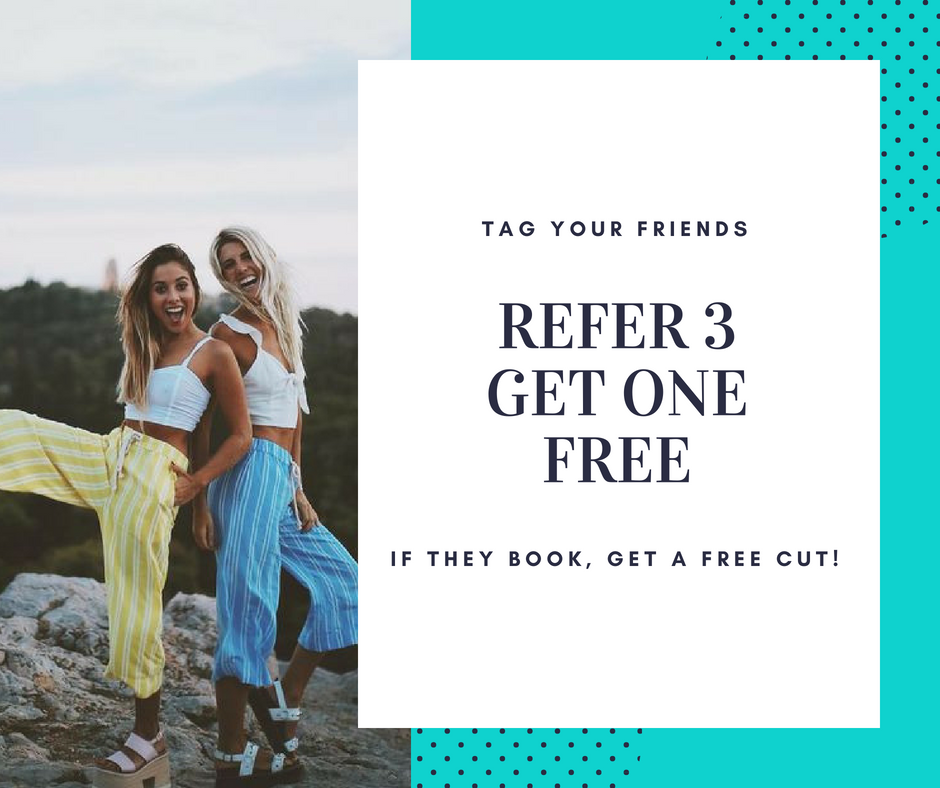 Download this template
Try salon appointment software & allow online booking:
By offering a "book now" link in your Instagram bio you'll be more likely to book appointments with those new clients who are lurking your Instagram feed. Check out how @darkfadr_leeds_, does it. He just opened up his own barbershop!
Ask for online reviews:
Online reviews make your services look more legit. Even just a few can help build trust with prospective clients who are researching your services and thinking about booking with you.
To get this started, make sure you have a Google business profile (see #1 above). Then send out a simple email to your list asking for a review. Use your personal email (BCC everyone) or a free service like Mailchimp. The email can be super simple, the more plain it is, the more likely they are to respond.
Here's an example we've seen work well: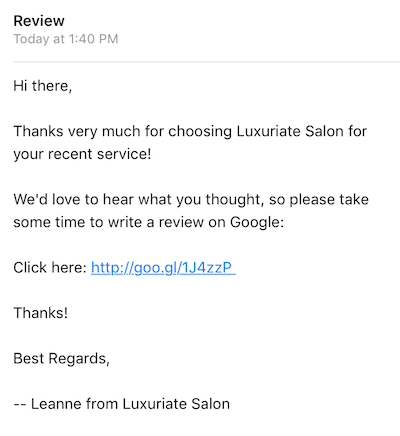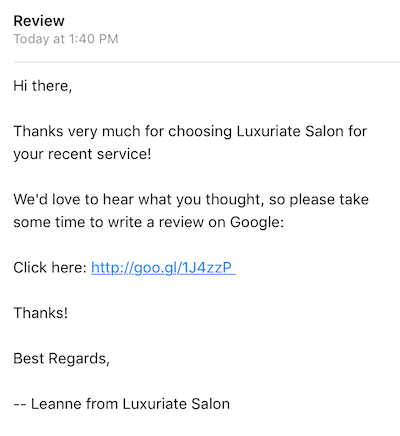 That's it! What do you think about our list? Got any tips to share that have helped your client list grow? Please let us know in the comments. 😃