14 Time Saving Tools for Busy Tattoo Artists
Tattoos aren't just for rebels anymore. (Rebel, rebels even)
Studies show one in five U.S. adults have at least one tattoo and as many as one in three millennials are inked. With this new generation being considered its own baby boom, this means big business for the tattoo industry. People spend $1.65 billion on tattoos each year in the U.S. alone (Source: Statistics Brain).
With all this excitement, tattoo shops and artists are being hit with a wave of new clients. Booking requests are flooding in by phone, email, text and carrier pigeon. Productivity is bound to slip.
Talented artists are getting booked solid for months, limiting their time in the day, and putting a strain on creativity and customer service.
For anyone who works at a tattoo parlor, making the most of your day is about avoiding the administrative chaos and finding more time for art. Not to mention going to concerts, hanging out with friends or just chilling out.
To help you deal, here's a roundup of our favourite tattoo studio software and other tools for this creative, appointment-based industry.
Creative Stuff
Keep your portfolio up to date (without losing your mind)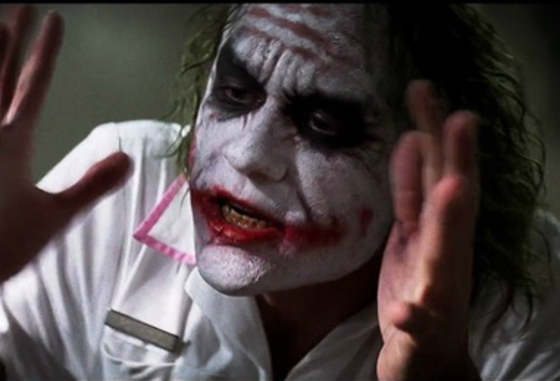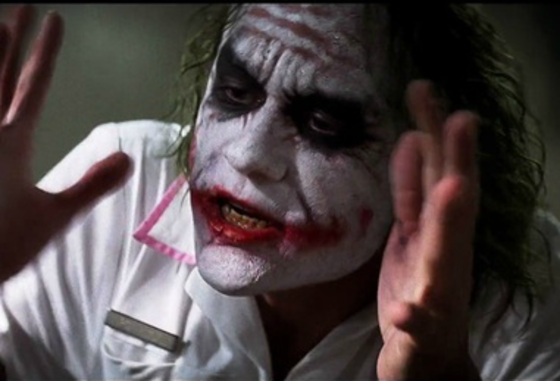 Whether you have one person in charge of updating the shop's portfolio, or your team all has their own separate portfolios, here are a few options that are easy to use and cater to beautiful imagery and mobile-friendly designs:
1. Instagram: Pros: free, easy to use and update, supports video, built in social audience. Cons: Can't think of any!
2. Squarespace: Pros: easy to update website builder. Re-sizes images automatically, beautiful templates. Cons: Not free.
3. Tumblr: Pros: free, simple blog-style feed of text and images. Easy to integrate with social media (see IFTTT in #8 below). Cons: Limited customization.
Tidy up your ideas
4. Evernote web clipper (Chrome, iOS, Android): Collect images, photos, or screenshots all in one place. Perfect for collecting tattoo inspiration you find while surfing around the web, or taking photos of your sketches. It organizes everything into one place and works on all devices.

5. Pinterest (web, iOS, Android): A highly underrated tool. Create a board for your portfolio, themed tattoo inspiration boards, or private image boards to share with your clients or use during consultations. Over 80% of Pinterest users are female too, so keep this in mind when organizing your images.
Pro tip: Connect Pinterest to your Evernote with IFTTT (see #13 below).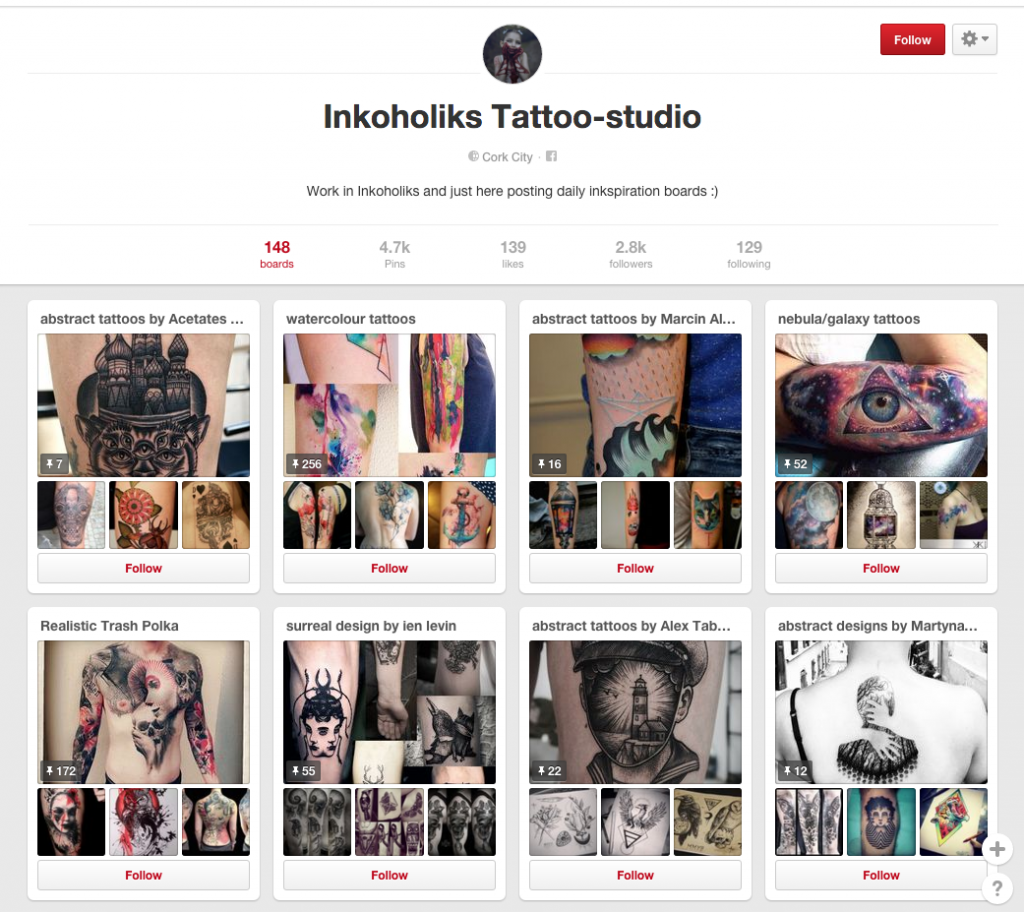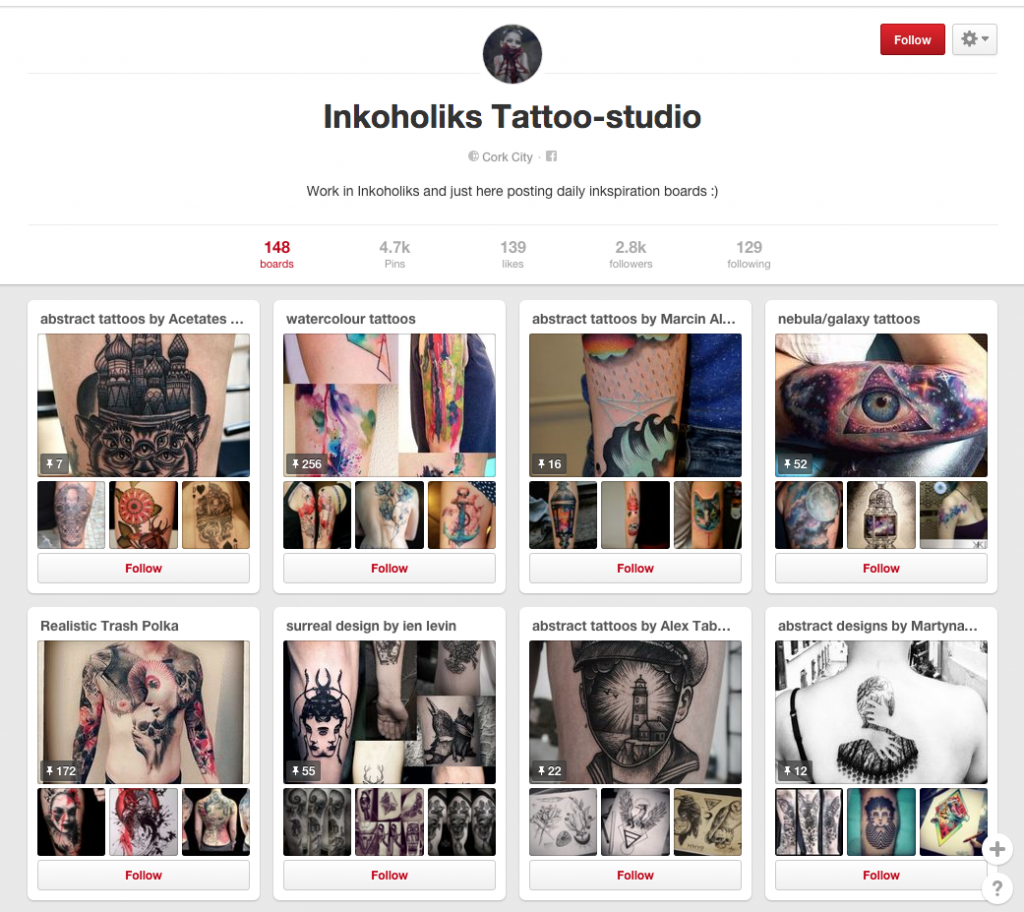 Promo & Marketing
Create professional images…fast
6. Pablo: A free desktop tool that helps you create images for social media in under 30 seconds. Add or choose an image, add your logo, add text, then save images or schedule them for automatic posting to social media.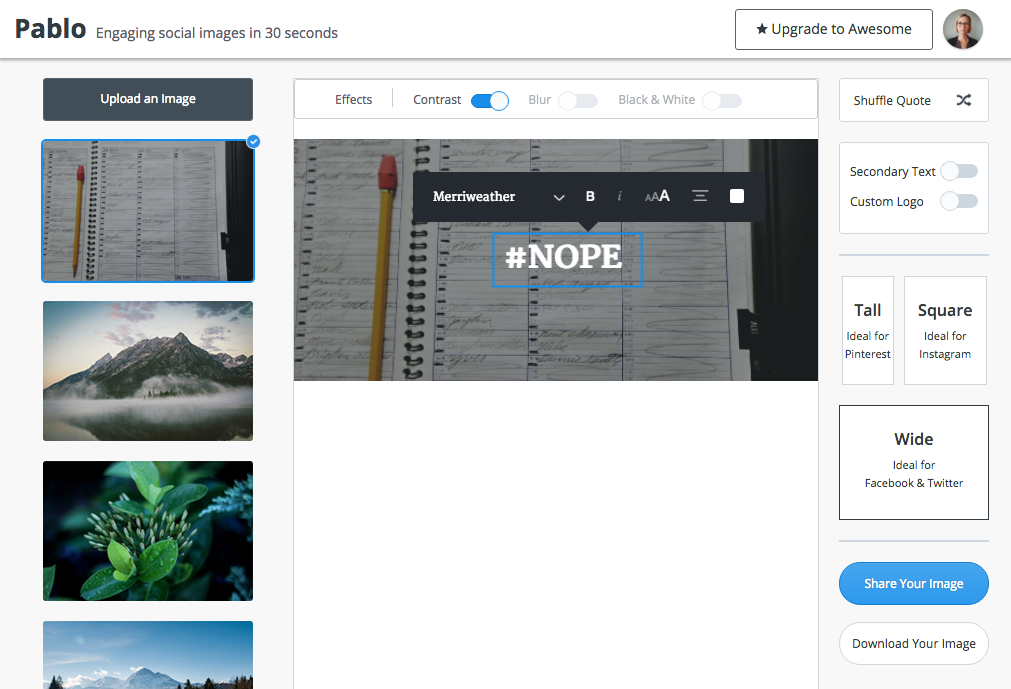 7. Canva: Another free desktop tool great for creating quick promotional images. Upload photos, or use their templates. There is a built in stock photo library if you need it (many images are free, others cost $1-$2). This one is a little more powerful than Pablo, as the graphic and templates library is huge. But if it's speed you're after, stick with Pablo.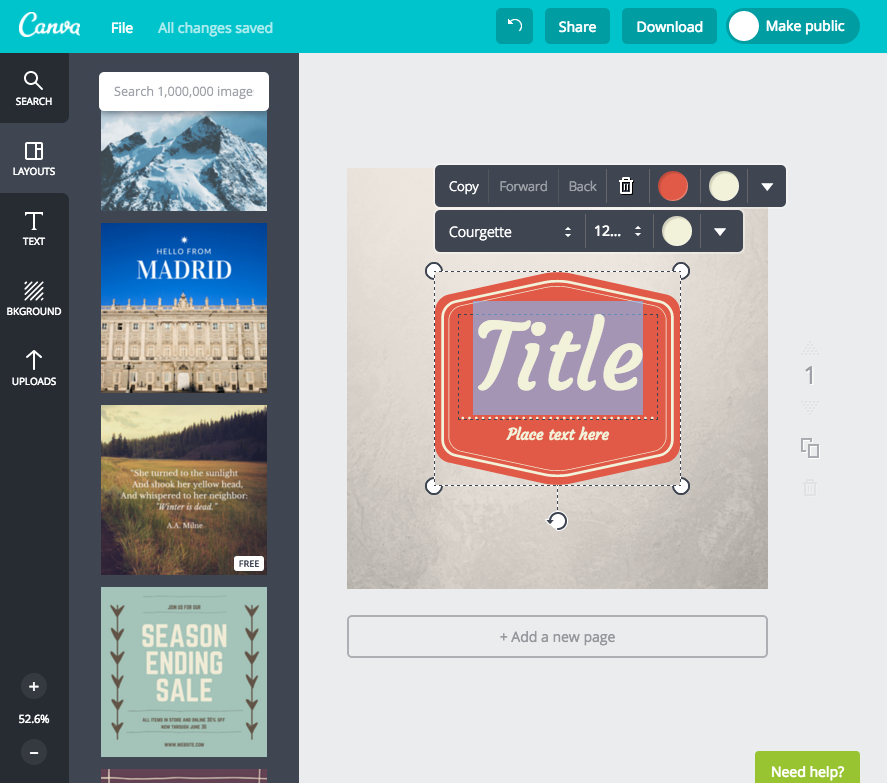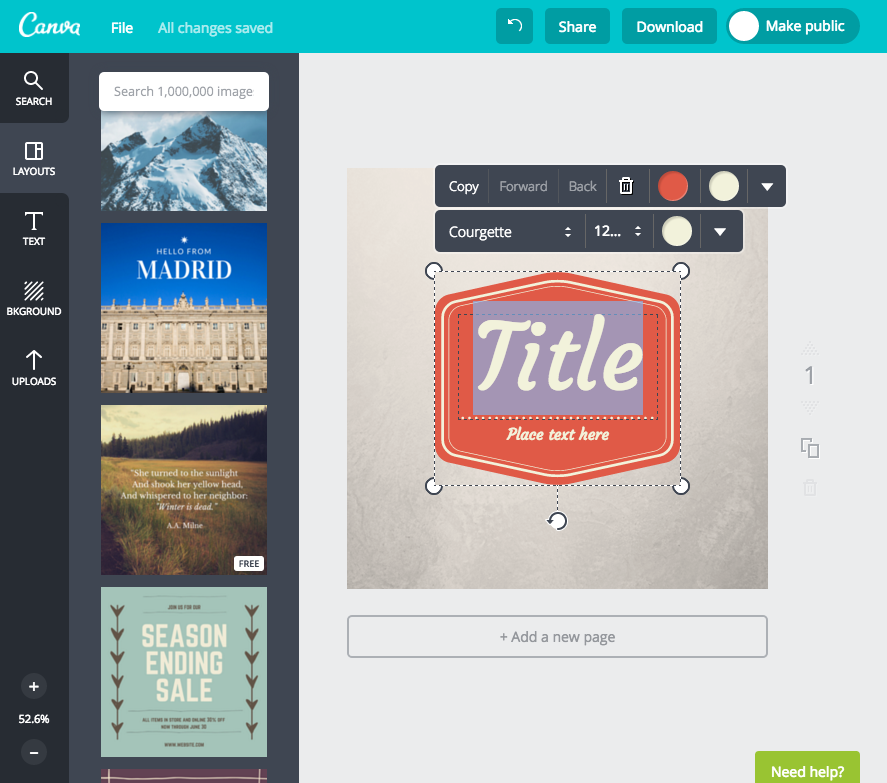 8. aillis/aka Line Camera (iOS, Android): Some of our favorites image-based mobile apps are VSCO cam (powerful image editing) and Instagram (obviously!), but this little gem aillis (which stands for "art is long, life is short") works great for watermarking your work. Don't laugh at the cutesey stickers within the app; the text-addition and sharing are perfect for editing images before posting on Insta.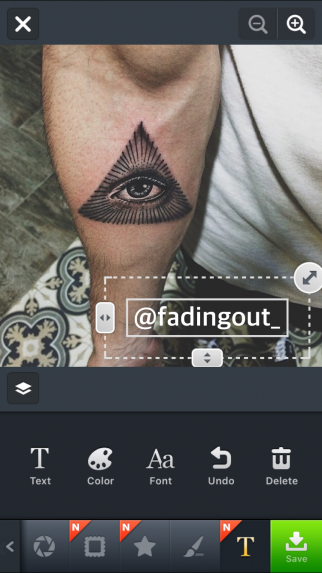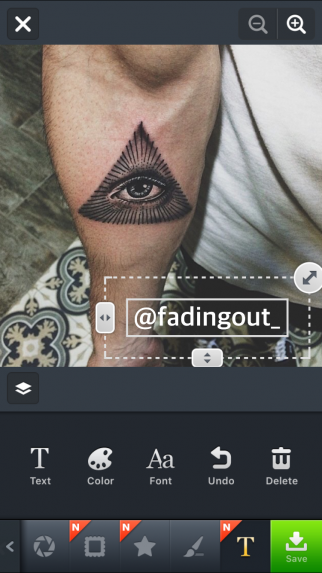 Speed up social media
9. Buffer: Create and schedule posts for Twitter, Facebook, Google+, LinkedIn and Pinterest from this web app, or the chrome extension. It's free, and will save you heaps of time. Just sit down once or twice a week and schedule out a batch of posts. Cons: doesn't support Instagram (yet) and some features require paid upgrade. Pro: the free plan is really all you need.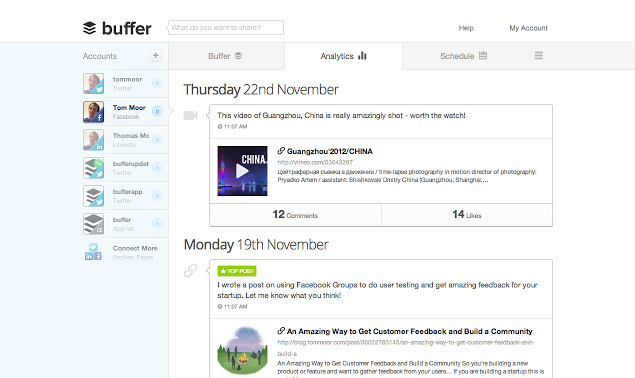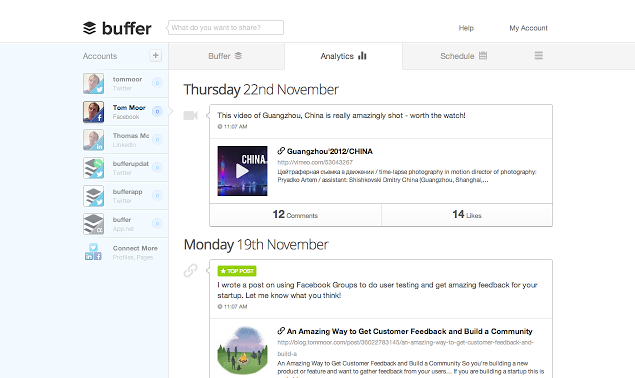 10. Social Media Runner up – Hootsuite: For social media scheduling, this one is kind of like Buffer on steroids. We mention Hoostsuite mostly because they support Instagram. We haven't used it much, and the interface can feel a bit daunting to a newbie, so if you're really strapped for time, maybe put this on the "later" pile.
Get Organized
Never forget a thing
11. Things: A great little app for Mac & iOS. Write down and schedule all those tiny little "things" you need to do so you won't forget. This one is great for juggling work/life, and making sure you get things done on time.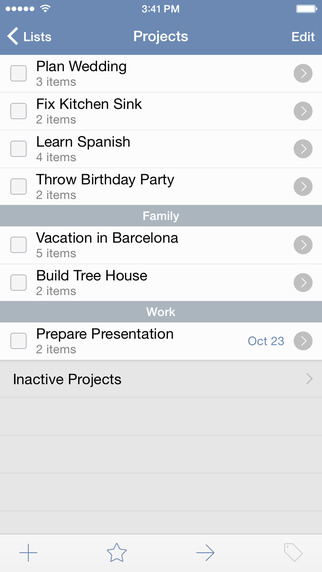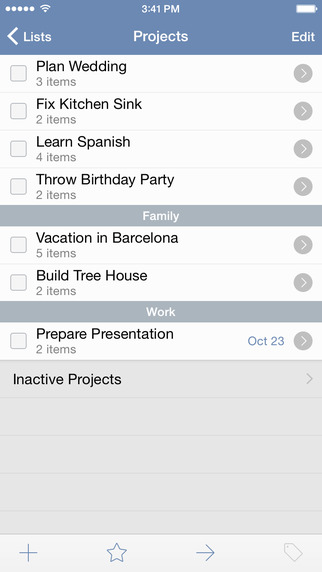 Related: Productivity Showdown: Single-Tasking vs. Multitasking
Keep your team tight-knit
12. Slack (web & mobile): A free messaging app for teams. It makes work simpler, more pleasant, and more productive. So no more annoying group texts! It lets your team communicate, share files, and keeps everything organized into channels across all devices. For tattoo shops, Slack would work well for sharing sketches, designs and getting team feedback. Also keeping conversations with the group organized by category (expenses, clients, artwork, days off, etc.)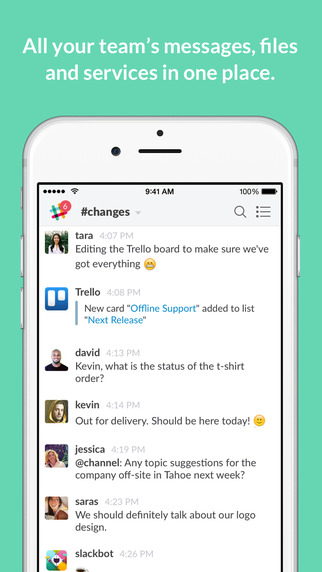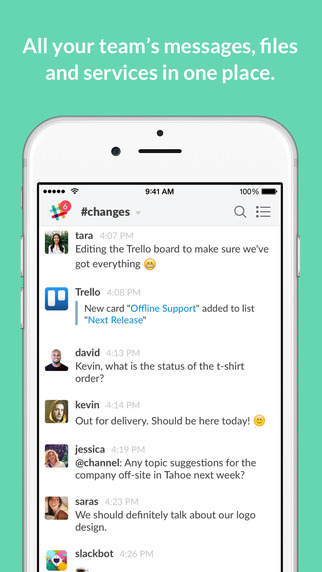 Automate All The Things
Double your output (without doubling effort)
13. IFTTT // if this, then that: A free web service that lets you create "recipes" to put the internet to work for you. Each recipe you create triggers IFTTT to do something automatically for you. Examples:
If you hashtag #portfolio on instagram, then the photo will automatically publish on your Tumblr
If you create a shared note link on Evernote, then it will post to a specific Pinterest board
There are hundreds of recipes and services supported, so you can get pretty creative with this one. Here's one of their getting started lists.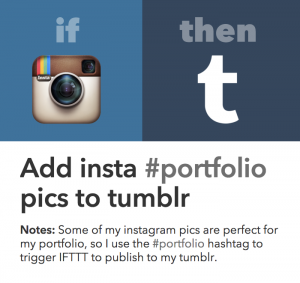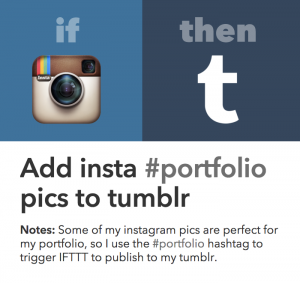 Set up automatic appointment confirmations & reminders
(We'll admit, these last few are full of shameless self-promotion.)
14. BookedIN: This tattoo shop software takes care of your client communication. No more calling or typing out appointment confirmations or reminders. Customize the messages depending on what service was booked.
For consultations, you might add directions to the shop, parking info, what to bring, etc. For tattoo sessions you might add a note about aftercare, pain management, or rules about bringing friends to appointments.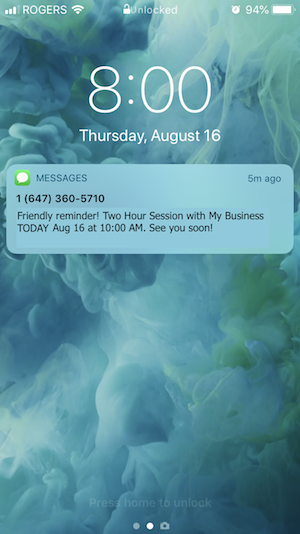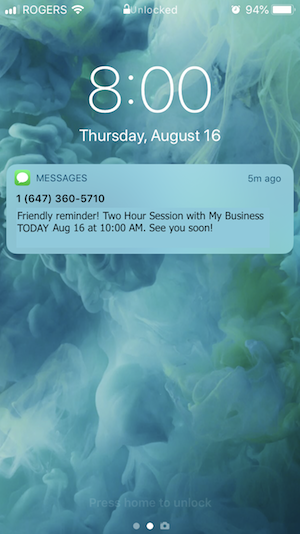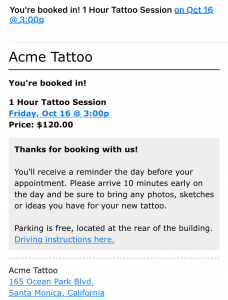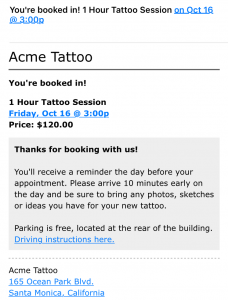 Scheduling & Payments
Ditch the old-school appointment book
BookedIN: If you're still using a paper agenda, or a free calendar tool, switching to online appointment booking will make your work life less chaotic. You'll be able to squeeze in a few more clients, avoid no-show appointments, and collect deposits without losing your sanity.
Your schedule is always available on your phone, at home or at the shop. Everything gets synced to your personal calendar.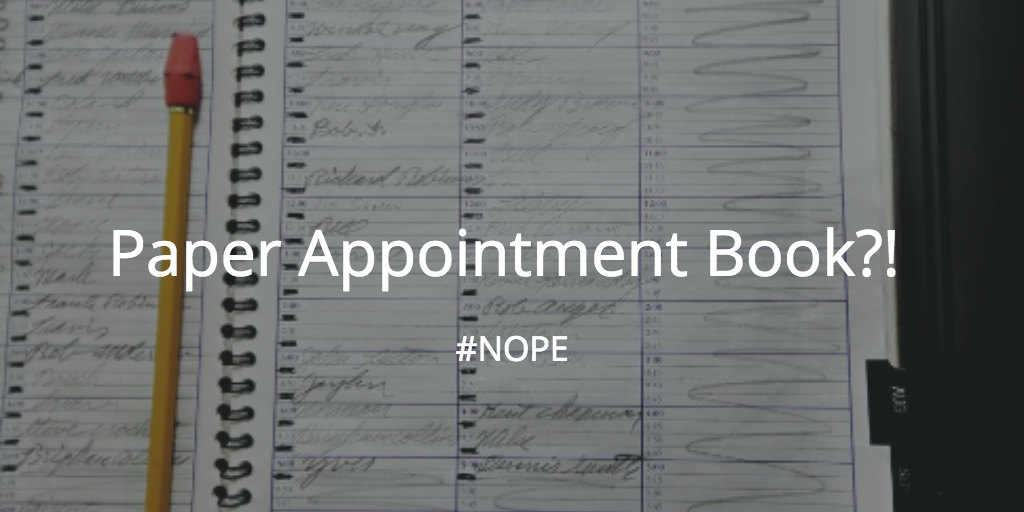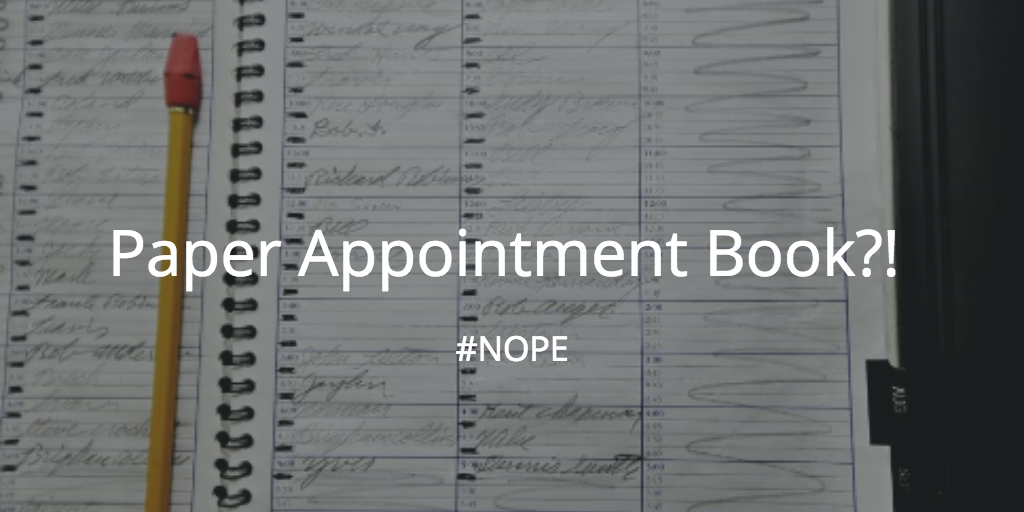 Related Post: Real Customers Reveal the Benefits of Online Appointment Booking
Get clients to book online
BookedIN: To the rescue once again. No more answering the phone or trying to schedule in clients in-between your sessions. This tool makes it so clients do the work of booking their own appointment. So your phone will no longer be buzzing with texts asking "are you free tomorrow"? You can just chill with great music and create art with your clients. Here's a sample of what your clients see (via Platinum Ink)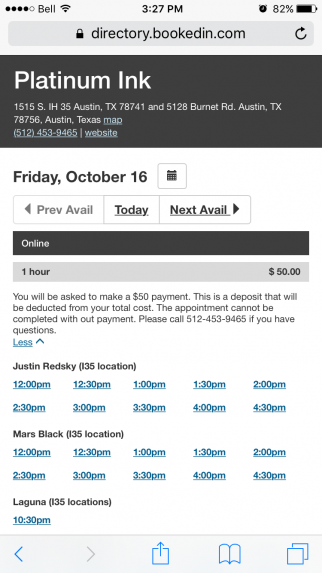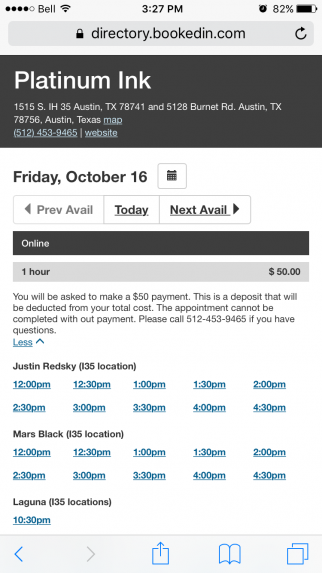 Force clients to pay deposits
BookedIN + PayPal: Make them pay when they book. It's the industry secret to eliminating no-show appointments. The beauty of tattoo scheduling software is really the up-front payment requirement. Nobody can book a tattoo session without putting down some cash first. When the money clears, their appointment gets locked in on your calendar. If they don't pay, the time is not booked, and is left free for someone else.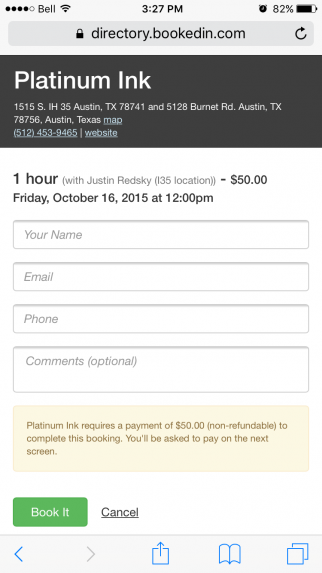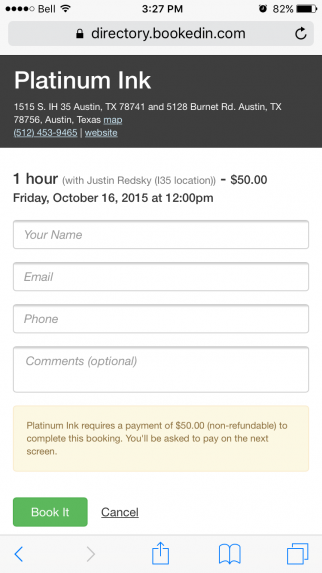 Have thoughts or additions for the list? Leave a comment, we'd love to hear from you!
Hundreds of tattoo artists trust BookedIN with their client appointment scheduling. Check out a few of our customers:
PS: If you don't have online booking set up yet, you can get started today for free. BookedIN's online appointment scheduling software will help you save time, reduce stress, and get control of your booking chaos.