How To Easily Automate Appointment Reminders For Clients
There was a recurring bit in Animaniacs (the '90s version, not the 2020 reboot) that almost never failed to make me laugh. It was called Good Idea, Bad Idea. Examples include "Good idea: getting breakfast served to you in bed. Bad idea: getting tennis balls served to you in bed".
I think about that bit a lot when I think about automation. Good idea: automated appointment reminders from your barber. Bad idea: automated barbers.
Automation is good when you're getting computers to do rote, error-prone tasks that humans find dull.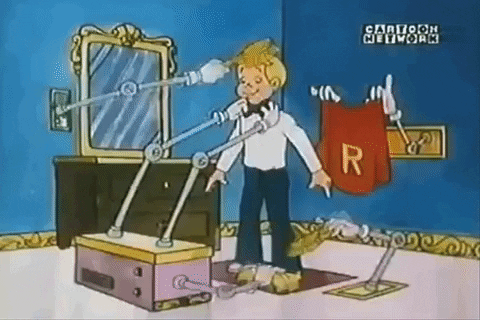 A lot of businesses don't even send appointment reminders – that's a big miss, and it can lead to a lot of cancellations and no-shows. You'd be better off training carrier pigeons to send your reminders than to not send any at all.
Fortunately, there are easier ways.
In this article, we're going to show you how you can send semi-automated text reminders and email reminders absolutely free – and in most cases, without even needing to download any software you don't already have.
After that, we're going to show you how Bookedin makes the process even more simple and effective – complete automation and lots of other features.
Sounds good? Let's begin.
How to streamline email reminders (for free!)
Emails are a useful way to remind your clients about appointments they've booked with you. They're probably not as useful as text messages – emails might fall into a junk folder, and they tend to be more readily ignored. There are, however, some advantages to email reminders. It can be easier to incorporate branding, graphics, and important attachments in your message.
What we're proposing here isn't complete automation, but a streamlining of processes that should drastically improve your client service and cut down the time you need to spend.
Step 1: Create a script. This can be something as simple as:
Hi [First Name], This is an appointment reminder from [Business Name]. Your appointment is scheduled on [Day] at [Time]. We look forward to seeing you then!
Step 2: Create an email template for your appointment reminder – the subject line can be as simple as "Appointment Reminder", or you can brand it as you like. The body will contain your script. You can create templates in Gmail and in Outlook (the links explain how).
Step 3: When a client books an appointment with you, open your preferred email client list. Use the template, filling in the relevant details (their first name, etc.).
Step 4: Instead of sending the message immediately, schedule the message to be sent at a later date. You can do this in Gmail and in Outlook (again, the links will give you a complete guide).
Once your template is created, this method will save you a lot of time – you'll only have to complete steps 3 and 4.
While a 2-step process isn't complete automation, it will still save you a lot of effort compared to doing everything manually.
How to (mostly) automate text reminders
AKA: how I learned to stop worrying and love free third-party apps.
Automating text reminders might be more useful than automating emails. Unfortunately, it's also trickier, since most SMS apps don't have a template function.

Things get trickier still. While most of the Western world uses Gmail and Outlook for email, there is a lot more diversity in the SMS app field. That means that some of you will have options to schedule messages already built in, while others won't.
That means we're going to have to look to free apps if we want to keep our automation costs at a minimum. For our purposes, we'll use an app that can automatically schedule text messages. There are fewer good template options, so we'll simply use Apple/Samsung Notes, Google Keeps, or your preferred note-taking app.
Step 1: Create a script in your note-taking app. It can be as simple as:
Hi [First Name], This is an appointment reminder from [Business Name]. Your appointment is scheduled on [Day] at [Time]. We look forward to seeing you then!
Step 2: Save your script.
Step 3: Find an SMS app that can send scheduled messages for you. For Samsung users, the default SMS app should work. For non-Samsung Android users, you can get an app like Do It Later or Pulse SMS. For iOS, try AutoSender. These apps are all free to use, though there are additional features you can purchase in each of them.
Step 4: When your client books a new appointment, paste your script from the note-taking app to the message, replacing all relevant fields with the appropriate information (their first name, etc.)
Step 5: Schedule the message to send for the date and time you want it to be received.
How to FULLY automate text & email reminders with Bookedin
Bookedin is an all-in-one appointment app: we've automated both appointment booking and appointment reminders. We send both text and email reminders to your clients automatically. It takes much less effort than the two options we just went over above.
How much less effort? Well let's go over the steps and see:
Step 1: Get Bookedin (you can start with our 14-day free trial).
Step 2: Customize your reminders (text & email) or just skip this step and rely on the default settings.
Step 3: Add the appointment booking link to your social media profiles and/or website.
That's literally all you have to do. From there, when a client books an appointment with you, we'll automatically send them an email and/or text message before their appointment – you get to choose in what time-frame those reminders are sent out.
Sending reminders a day before the appointment is common, but Bookedin can do a whole lot more. Clients are immediately sent a confirmation message when they book.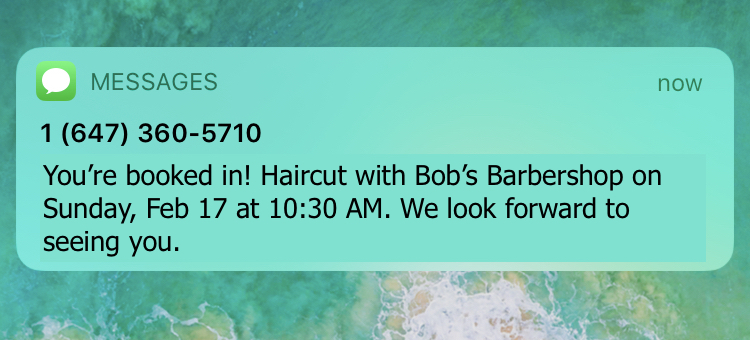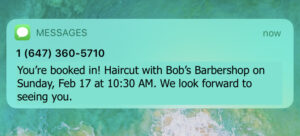 You can also decide whether a reminder text is sent out days in advance, or even hours in advance – the same goes for emails. Check out:
Automatically replying to clients (for fun and profit)
This how-to has been about automating the sending of appointment reminders – we haven't, however, addressed how to automatically reply to those reminders. Bookedin handles that for you, too – clients can reply "Yes" to confirm or "No" to reschedule.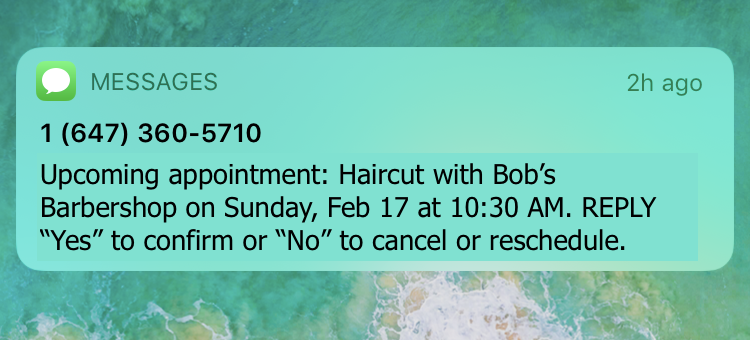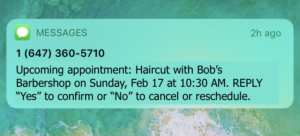 The other options we presented don't have that capacity.
Nonetheless, something is absolutely better than nothing when it comes to appointment reminders. They're useful for your business and for your clients – well worth the effort.